Abbey Clancy sought treatment for anxiety after fears over children's health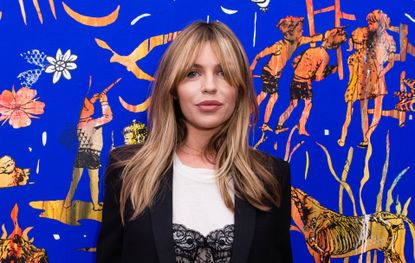 Mum-of-three Abbey Clancy was being plagued by fears that her children were seriously ill.
Britain's Next Top Model star and TV presenter Abbey Clancy has revealed she sought treatment after her health anxiety got so bad that she believed her children were seriously ill.
The pregnant 33-year-old model's anxiety exacerbated to the point that she found herself constantly taking her perfectly healthy three children to the doctor, convinced there was something majorly wrong with them.
Speaking to You magazine, Abbey stated: 'I didn't want to see someone for myself - my health anxiety is always for other people, never for me.
'But it's been getting out of control and I just don't want to be thinking these negative thoughts all the time. I don't know where they come from.'
The model continued: 'I'm confident speaking to people, because I like to talk, but I'm not as confident as other people might think. And I wasn't depressed - this was just a waste of energy and time making me unhappy.'
Abbey discussed her decision to take control of the situation and seek treatment, after her friend put her in touch with a specialist:
'I don't know what sort of treatment it was... I was skeptical, but he was amazing and it worked.'
The model, who is currently expecting her fourth child with footballer Peter Crouch, has spoken very honestly about the challenges of motherhood and pregnancy in the past.
Speaking to the MailOnline last September, Abbey detailed the difficulties she experienced during her last pregnancy with son Johnny: 'With my last baby I was so ill, I was in bed for nine months and in hospital a few times. I was constantly throwing up 24/7. It was a really tough pregnancy and I couldn't spend a lot of quality time with my two other children.'
Rbbey Clancy and Peter Crouch announce they're expecting their fourth child
Abbey also spoke of experiencing hair loss during this time: 'My hair was falling out in clumps and it was just terrifying...'
'You take for granted something like your hair and when you see it falling out in front of your eyes it's a really scary thing.'
Freelance Lifestyle Writer
Niamh McCollum is a freelance lifestyle writer who has written for Future titles GoodTo and Marie Claire UK, plus the Irish Independent. The Dublin-based journalist specialises in stories
affecting families - from health updates, to the freshest parenting debates and celebrity announcements.