Aldi is bringing back its giant sloth just in time for Christmas shopping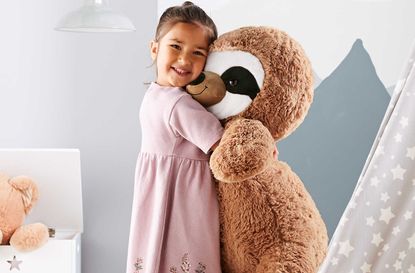 (Image credit: Aldi)
GoodTo newsletter
Sign up to the GoodTo Newsletter. You can unsubscribe at any time. For more information about how to do this, and how we hold your data, please see our privacy policy
Thank you for signing up to . You will receive a verification email shortly.
There was a problem. Please refresh the page and try again.
Aldi never ceases to amaze us with their wacky offerings.
They seem to always know we all want even before we even know it ourselves.
And each week we end up finding ourselves back down the infamous Specialbuys aisle stocking up whatever obscure but somehow necessary toy, gadget or edible that they decide to offer us.
And once again, the budget supermarket has got customers in a tizzy with its newest Specialbuys arrival – and it's one that's perfect to add to the kids' (or your own) Christmas lists.
The budget retailer has brought back their giant sloth cuddly toy.
SHOP NOW: Giant Plush Brown Sloth, £12.99, Aldi (opens in new tab)
Available in a deep brown colour or a soft grey, the giant cuddly toy is approximately 1m tall or around 3.3ft high, so perfect for little ones who want a life-size playmate or a big ones who want an adorable pillow to cuddle and keep them warm.
And fans couldn't handle the excitement of the returning arrivals, taking to Twitter to express their need for the cute toys.
'I actually need one of those huge sloths from Aldi😩,' wrote one fan, 'catch me at opening time on Thursday'.
'Honestly if anyone fancies buying me a £12.99 giant teddy or sloth from aldi please feel free,' added another, 'i'm not stopping u honestly like go right ahead xxxx'.
SHOP NOW: Giant Plush Brown Sloth, £12.99, Aldi (opens in new tab)
'Why won't anyone in my family buy me the giant sloth from Aldi,' commented another. 'Do they not understand it is the key to a happier me'.
Others wrote, 'I need the giant sloth from Aldi', 'I JUST WANT ONE OF THE GIANT SLOTHS FROM ALDI 😩😭', 'do i go to aldi and buy myself a sloth', 'All I want is one of those huge sloths from Aldi' and 'My goal for the next two weeks is to get a giant sloth teddy from Aldi that's it'.
While another quipped, 'Who needs a man to cuddle when I'm gonna buy myself the giant sloth from Aldi'.
MORE: Aldi launches huge wooden toy sale just in time for Christmas (opens in new tab)
The in demand character will set you back just £12.99 and while it was originally available on the Aldi website, it is now currently out of stock.
But there is still a glimmer of hope.
The giant toys will be available in stores across the country from Thursday 31st October.
But we'd be there when doors open if you want any chance of snapping one up.