Mum shares chilling warning after her baby almost dies from drinking water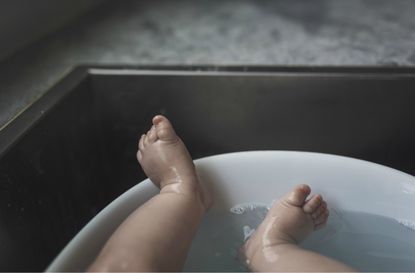 (Image credit: Cavan Images)
A mother has shared how she almost lost her new born baby to water intoxication after her 11-month-old daughter drank water from the bath.
Most parents are aware that babies don't need to drink water until six-months-old and that if a newborn consumes too much water the consequences can be fatal.
Mum Katie Gorter has taken to Facebook to share a chilling post in a bid to warn other parents of the dangers of water intoxication in babies.
Katie shared a photo cradling her 11-month-old only daughter Elly in hospital, while recovering from water intoxication after consuming bath water.
Alongside her post, the mum-of-one wrote: '⚠️ ⚠️ ⚠️I just wanted to make a Public Service Announcement!!
'Water intoxication is very real and can happen so easily!! Please only offer babies 6-12 months no more than 2oz of water in a 24 hour period!! Babies younger than 6 months cannot have any at all!
Read more: Dehydration in babies: How to spot if your baby is dehydrated and how to treat it (opens in new tab)
'Currently dealing with my 11mo having water intoxication! I only ever offer 2oz a day and usually she doesn't finish it. Yesterday she discovered she could drink the bath water. I didn't think much of it at the time and later ended up rushing her to the ER.
' She became lethargic, started vomiting, and then was struggling to breath! She had so much water in her it was compressing her lungs! She is doing a lot better now with breathing but we are still vomiting very often! I just wanted to put this out there for those who don't believe it matters and give their baby as much as they want.
'Breastmilk/formula is plenty!! And just because baby is close to a year does not mean they can have more than 2oz!! My daughter is a year in 3 weeks and here we are! Thanks for reading my rant lol.'
https://www.facebook.com/photo.php?fbid=2228998833821494&set=a.254687554585975&type=3&theater
Katie continued her post: 'This has blown up way more than I ever thought possible! Thank you everyone for the prayers and kind words!
'Elly is doing really good today! We are at 6 hours without puking so far!! She's even playing again! I also wanted to add, she did not have any water in her lungs, they were clear! It was the first thing the physician checked for!
'She did not aspirate nay water and did not have dry drowning! Purely only water intoxication! Also once the child is one year of age it is 8oz of water per year of age up to 8 years old!'
The post has received 29k thousand shares of people spreading the dangers of drinking water for small children.
Water intoxication occurs in babies because their kidneys are not yet fully developed.
Given babies too much water can cause their bodies to lose sodium along with water. Losing too much sodium affects a baby's brain activity.
Other symptoms include irritability, drowsiness, mental changes low body temperature, seizures, puffiness and swelling of the face.
Sibelle Mehmet is a Junior Digital Writer at Goodto.com. She joined the team in April 2019 and was her first job since completing a MA in Magazine Journalism at City, the University of London in the summer of 2019. Sibelle previously interned at a number of national titles including OK!, Heat, Closer, Mother & Baby, and The Times Newspaper magazine. She's written extensively about the latest celebrity, showbiz, and royal news.