Bode Miller and wife Morgan expecting twins a year after tragic death of their daughter Emeline
This is lovely news...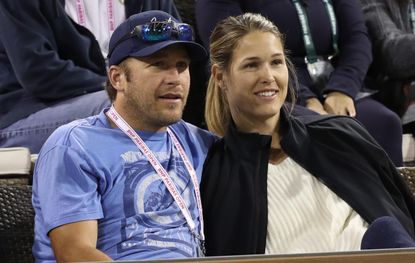 (Image credit: Getty)
Olympic skier Bode Miller and his wife Morgan announced the lovely news that they are expecting twins in a recent interview.
41-year-old athlete Bode and professional beach volleyball player Morgan, 32, made the sweet announcement on during an episode of American talk show, Today.
Morgan gushed: 'From the beginning of our relationship, [Bode] always said, "I want identical twin boys, born on my birthday,"
Read more: Coronation Street star Lucy-Jo Hudson expecting second child with boyfriend Lewis Devine
'And this time, when we found out I was pregnant, I said, "Do you think it's twins this time?" And he said "No." Sure enough, identical twin boys,'
In an Instagram post, Morgan also revealed that her twin sons are due in November, writing: 'We are due on the lucky day/angel number of 11/11 which is not far off from @millerbode Birthday of 10/12.'
The touching news is even more poignant, as it comes just over a year after the couple lost their 19-month-old daughter Emeline in a tragic accident.
Paying tribute to their late daughter in the recent Instagram post, Morgan said: 'From the beginning of this pregnancy, we knew Emmy had her hands in this miracle somehow.'
Read more: Mum issues warning after daughter almost chokes to death 'My life nearly changed forever'
Morgan and Bode Miller's daughter Emmy passed away in June last year, in a drowning accident at a neighbour's swimming pool. The couple revealed that they performed CPR on their daughter and she was resuscitated, but heartbreakingly passed away in hospital the next day.
Since that time, the two parents have campaigned fiercely to raise awareness of the dangers of water, and just how terrifyingly common deaths by drowning are, particularly with children.
Four months after Emeline's death, Bode Miller and Morgan Miller welcomed their second son, Easton.
Bode has a daughter, Neesyn, with a previous partner, and a son, Samuel, with another former partner. Morgan and Bode also have another son, Nash, who was born in 2015.
Amy is Senior Digital Writer across Woman & Home, GoodTo and Woman, writing about everything from celebrity news to health, fashion and beauty features. When she isn't obsessing over the latest dress drop from Marks & Spencer, you'll most likely find Amy out running, or with a cup of tea in hand ready to dive into a gripping new Netflix series.