Cancer survivor posts 'No Breastfeeding Zone' sign in hospital after giving birth
This is so poignant...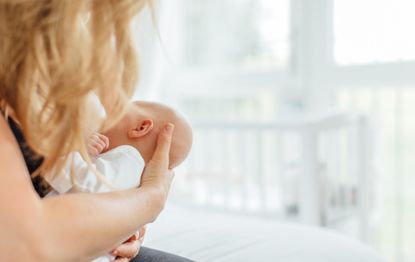 (Image credit: Getty Images)
GoodTo newsletter
Sign up to the GoodTo Newsletter. You can unsubscribe at any time. For more information about how to do this, and how we hold your data, please see our privacy policy
Thank you for signing up to . You will receive a verification email shortly.
There was a problem. Please refresh the page and try again.
A new mum and breast cancer survivor has posted a 'No Breastfeeding Zone' sign at the hospital where she gave birth, to pre-empt anyone who might question why she's feeding her baby girl formula.
Meghan Koziel was diagnosed with breast cancer three years ago at the age of 26, and underwent a double mastectomy. Tragically this means she doesn't have the option to breastfeed her newborn.
To alert both staff at the hospital – who may not have had a chance to look through her medical charts fully before seeing the mum feeding – and fellow mums, she placed a sign above her hospital bed.
It read: 'NO BREASTFEEDING ZONE. Though breastfeeding is a very special task, please be aware before you ask. Our miracle baby will be formula fed, and it will not affect her future ahead. This mommy is a survivor.'
Posting a snap of herself and the sign on Instagram she continued: 'Attention please, attention please. We do indeed have a mommy-to-be who had breast cancer and a mastectomy which means, without boobs in the houseeeee! Got the banner raised just in case people are confused at why we are NOT going to be breastfeeding our little bundle of joy. Yes I have foobs, no I do not have boobs (or nipples) therefore... my body is incapable of breastfeeding:) -sign was made by me!!!!!) thank u @japalelis for the inspiration!'
The post attracted more the 7,000 likes and Meghan was inundated with messages of support from fellow mums.
One wrote: 'Thank you so much for posting this ...I went through this last year... I had to say this to every nurse who came into the nursery after I gave birth and even leading up to the birth I was reminded that I would not be able to breast feed and I felt a lil less than but my child will be one next week and is a fiery funny smart lil guy ..sometimes I feel guilty that I was not able to but it was out of my hands .. I wish would have thought of this sign lol THIS IS AWESOME!!! LOVE IT!!! @meghankoziel XOXOXOXOXOXO'
While another added: 'Congratulations on the new bub - and congratulations on a brilliant way to inform yet empower yourself and life - as it's happening ;) Amazing!'
More than 55,000 women are diagnosed with breast cancer each year in the UK.
According to the NHS mastectomies may be recommended in the following instances.
cancer is in a large area of the breast
cancer has spread throughout the breast
the breast is full of pre-cancerous cells
Freelance Lifestyle Writer
Miriam Habtesellasie is a freelance lifestyle writer who has contributed content to GoodTo, Woman&Home, Women and Idealhome.co.uk. Miriam is based in London and is a fan of everything interiors, she admits to being spoilt for choice living in the capital. From stunning architecture right the way through to eye-catching department store window displays, she believes there's always an angle to be found that can translate to our abodes.