Casualty star Michael Stevenson reveals traumatic birth of twins gave him PTSD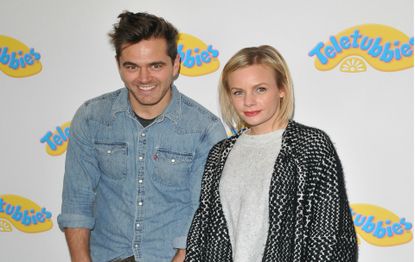 Casualty star Michael Stevenson, who plays Iain Dean, reveals he suffered from PTSD after the birth of his twins.
Michael Stevenson has spoken about how playing a suicidal paramedic suffering from depression affected his personal health and his home life.
The actor believes he suffered PTSD after the birth (opens in new tab) of his four-year-old twins, Emmy and Isla, who he shares with his partner Lauren Crace.
He's revealed how he was struck with fear when the doctors told him they believed the twins had a condition called malrotation.
Malrotation is an abnormality of the child's intestine that does not form correctly in the abdomen.
'I probably had mild PTSD after my twins were born. That was a pretty traumatic time,' he told the Daily Mirror.
'They thought they had malrotation, which can be really dangerous in the stomach. I remember phoning my dad, they hadn't heard anything from us for a few days and were worried, and hearing his voice, it all came out and I wept.'
Michael believes that Casualty's storyline also had an impact on his own mental health.
'I've not been the picture of health in the last 12 months.
'You're very lucky if you can do that kind of thing and it not affect you.
'I didn't go to the gym for a year. What you're playing on screen affects you in your home life.
'There were times when I felt quite isolated. I drive two hours to work, then I work 10 hours playing a depressed person, then I drive for two hours to get home, on my own in the car.'
Partner Lauren Grace recently posted a throwback photograph (opens in new tab) of when the young twins arrived in the world on her Instagram.
She captioned the photo: 'Throwback to the 5th December 2014. The rugrats due date. They'd already been in the world a good few weeks by the time this photo was taken. They were the smallest, most fragile things I'd ever seen. Every time I look at them I am always amazed at how far they've come ❤️❤️ #premmies #twins #isla #emmy #ihavenoideawhoiswho.'
Michael's character Iain, will be centre of the action in this Saturday's special episode, following his recovery from his on-set suicide attempt.