Chris Evans reveals that he and his wife Natasha sleep on different floors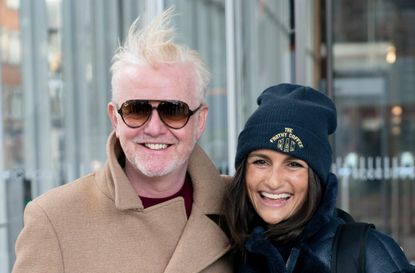 GoodTo newsletter
Sign up to the GoodTo Newsletter. You can unsubscribe at any time. For more information about how to do this, and how we hold your data, please see our privacy policy
Thank you for signing up to . You will receive a verification email shortly.
There was a problem. Please refresh the page and try again.
Chris Evans, former BBC Radio 2 presenter, has revealed that he no longer sleeps on the same room as his wife Natasha.
The dad-of-four made the surprising revelation on his new show on The Virgin Radio, telling listeners that the couple began this arrangement after their twins were born.
He said: 'Since the twins were born Tash and I are on different floors because I get up at silly o'clock.
'I can't wake the twins up. Never wake a sleeping baby – times that by two for the twins.'
He continued to explain that he does because he's worried he'll wake them up when he's getting ready to go to work, but that the twins (opens in new tab) also keep him up when he needs to go to sleep early.
He said: 'The shower wakes them up. I need to go to bed at silly o'clock and they're sometimes still awake then.'
Faced with a room just for himself, he also revealed that he had a chance to 'Marie Kondo' his room, referencing the popular Japanese organising consultant that advises people to declutter and get rid of anything that doesn't spark joy.
He said: 'I've had the chance to Marie Kondo my room. There's nothing in my room any more. I've got a plant I bought for someone else.
'I've also got a cabinet in my room but there's nothing in it. What's in my cabinet? Space.
'Got my plant, got my cabinet – that's it. My wife comes into my bedroom for a bit of peace and quiet.'
The pair welcomed their twins – a baby boy named Walt and a baby girl called Boo - back in September. They were already parents to two sons, Noah, nine, and six-year old Eli.
What do you think of Chris and Natasha's sleeping arrangement? Have or would you try the same with your partner? Head over to our Facebook page and let us know your thoughts!