Family's old Christmas photo goes viral for very bizarre reason - can you spot why?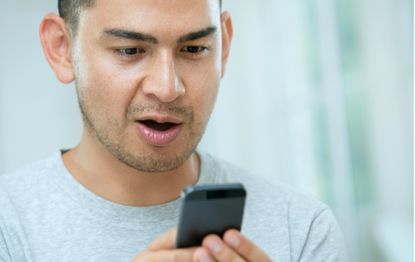 Once you see it...
A family Christmas photograph has gone viral due to the surprising presence of a special family member in the picture.
The snap of the Anderson family, from Massachusetts, USA, was posted by Matthew Anderson on Christmas Day and left Twitter users very amused.
The photograph, which features Mr Anderson, his parents, and his little sister posing in front of a Christmas wreath, seems fairly regular at first. However, it went on to get almost 40,000 retweets and has been liked as many as 211,800 times for quite a bizarre reason.
Can you see why?
That reason being: the family's pet hamster, Olivanna, is actually poking out of Matthew's jacket pocket in the shot.
Uploading the photo to Twitter, Mr Anderson, who is an award-winning writer, said: 'I post this old Christmas photo because I just noticed my pocket square is my sister's hamster.'
The photograph has gathered over a thousand responses from Twitter users worldwide, and, naturally, many of them were hilarious.
Notably, there was this very flattering close-up of Olivanna:
Mr Anderson also received a reply from someone who seems to know quite a lot about these pet rodents, who remarked: 'That's baller! Looks like a Syrian Teddy Bear hamster, they're such adorable and gentle creatures.'
For some other Twitter users, the photo was a hark back to their own unusual experiences with unexpected animals in random places:
'At my brother's college graduation, I noticed a student whose long brown ponytail was moving. It was actually her pet ferret.'
Finally, a very fair point was raised by this user who wrote:
'While I'm as bewitched by your sartorial prescience as everyone else, what I dig the most is the expression on your face. You sir, have pocket hamster in your eyes.'
Christmas is a time for inclusivity, after all, so we think it's only fair that Olivanna got to join in on the family portrait.
Have you ever experienced any bizzare pet photo-bombing incidents? Head over to our Facebook page to share your own story if so!
Parenting advice, hot topics, best buys and family finance tips delivered straight to your inbox.
Freelance Lifestyle Writer
Niamh McCollum is a freelance lifestyle writer who has written for Future titles GoodTo and Marie Claire UK, plus the Irish Independent. The Dublin-based journalist specialises in stories
affecting families - from health updates, to the freshest parenting debates and celebrity announcements.