Your Christmas tree could trigger a deadly asthma attack, leading charity reveals
This figures may come as a real shock...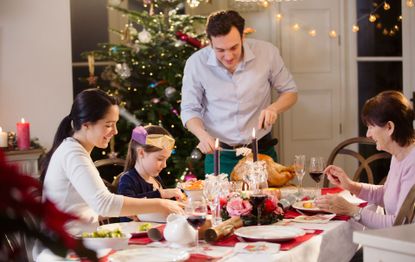 (Image credit: Hoxton/Sam Edwards/Getty Images)
GoodTo newsletter
Sign up to the GoodTo Newsletter. You can unsubscribe at any time. For more information about how to do this, and how we hold your data, please see our privacy policy
Thank you for signing up to . You will receive a verification email shortly.
There was a problem. Please refresh the page and try again.
Christmas just wouldn't be Christmas without a beautifully decorated Christmas tree complete with baubles, tinsel and a string of fairy lights.
But now leading charity Asthma UK has warned that this classic symbol of the festive season could actually be doing more harm than good for the UK's 5.4million asthma sufferers.
Their poll of 1,000 patients revealed that a staggering 42 per cent of asthmatics are affected by moulds and fungi - including the mould spores released into the air by real Christmas trees.
Further figures showed that one in five people with asthma are sensitive to some variety of food or drink, particularly those that contains sulphites. These can be found in processed meats - such as pigs in blankets - and alcohol, with red wine found to have higher levels.
'I didn't think my son's asthma was serious – until he was admitted to hospital'
42 per cent of asthma sufferers also found stress to be a key trigger for the condition. And with the run up to December 25th involving plenty of planning, present buying and prepping for family visits, most people would agree that it's a particularly stressful time of year.
Further results showed that smoke from cigarettes and log fires also proved to be a trigger for 53 per cent of those with asthma, while the scent from fragranced candles wasn't so sweet for 48 per cent of those with asthma. Dust also triggered symptoms for a higher 64 per cent of people with asthma.
Who knew toasting our feet in front of a roaring open fire with a glass of mulled wine in hand could prove so hazardous?
Additional findings showed that those surveyed had suffered from asthma attack at several points during the festive season. Nearly 1 in 14 asthmatics have had an attack at their work Christmas party, on Christmas Day or on New Year's Eve.
Commenting, Dr Andy Whittamore, from Asthma UK (opens in new tab), said: 'Don't let Christmas party essentials like mulled wine and Christmas trees trigger an asthma attack and ruin your festive fun.
'Following simple tips could be life-saving, like taking your preventer medicine every day and always having your reliever inhaler with you.
'It will help you stay well so you can concentrate on enjoying yourself.'
https://www.facebook.com/AsthmaUK/videos/1044384515741462/
Revealing how they get prepared for Christmas one Asthma and Christmas survey respondent wrote: 'As a family we plan ahead to avoid stress, and this involves making sure we stock up on the kids' asthma medicines in time for Christmas.'
While another added:' We wrap our decorations in tissue paper and seal them in a suitcase so no dust can get in while they're in storage.'
Miriam Habtesellasie is a freelance lifestyle writer who has contributed content to GoodTo, Woman&Home, Women and Idealhome.co.uk. Miriam is based in London and is a fan of everything interiors, she admits to being spoilt for choice living in the capital. From stunning architecture right the way through to eye-catching department store window displays, she believes there's always an angle to be found that can translate to our abodes.