Clintons apologises for selling 'sexist' mugs branding girls 'princesses' and boys 'heroes'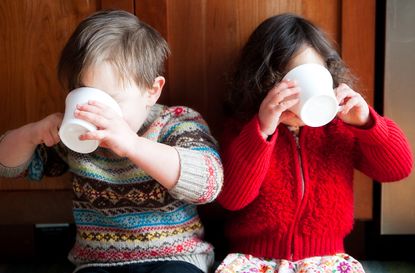 (Image credit: Getty)
Clintons has apologised for selling 'sexist' mugs.
The card shop has been blasted by shoppers for selling 'sexist' mugs that have branded girls as 'princesses' and boys as 'heroes'.
One shopper, who clocked the pink and blue mugs in the store, took to Twitter to express her frustration at the gifts.
Clintons shopper Paula uploaded an image of the two mugs alongside each other.
In the snap, the pink mugs are branded with the words 'daughter, princess, babe' while the blue mugs display the words 'son, friend, hero'.
Alongside the image, she wrote 'What a delightful message to spread to our children. Please do better @ClintonsTweet #everydaysexism @EverydaySexism'.
'It's not for me to say how someone should feel or how they should want to be seen by others,' added Paula. 'The issue here is that by selling these items, in these colours and with these words, they are perpetuating stereotypes that are limiting and can alienate both girls and boys.'
Twitter users were in uproar after seeing the image, taking to the post to express their anger.
'This is vile,' wrote one Twitter user, '@ClintonsTweet are you saying that I can only be a Princess and not a hero? Because that isn't in my job description. #firefighter,' added another.
'I grew up in the 70s, and these mugs are narrow, stereotyped inappropriate nonsense,' commented another user. 'Just no I'm appalled this got through every process to shops stocking them without anyone saying no!'
Others shared details about their own children, demonstrating that the 'sexist' remarks are unfounded.
Read more: Asda slammed by customers over 'sexist' kids' clothes
'My daughter is my little hero because she's fearless, brave, determined and funny,' wrote one. 'She's also very sure of herself and doesn't let her tiny size hold her back.'
'Really?' added another. 'You do know it's 2019 right? shan't waste my time Gotta drop my 11 yo girl 2 karate (brown belt) & 15 yo T1 diabetic girl 2 Life GuardTraining These fab young ladies are my heroes I'd be a mug to purchase anything like what you're selling'.
Many were unhappy that the word 'babe' was used, with Twitter users writing: 'Is it me or are the words daughter and babe together just a bit creepy' and 'I really don't enjoy sexist stereotypes at the best of times, but daughter=babe takes this to a new level of wrong'.
Clintons responded to the controversy, tweeting: 'We are very sorry that this design has caused offence.
'That's never the intention when we select our gifts. Your comments have been passed to our buying team for review today.'
Aleesha Badkar is a lifestyle writer who specialises in health, beauty - and the royals. After completing her MA in Magazine Journalism at the City, the University of London in 2017, she interned at Women's Health, Stylist, and Harper's Bazaar, creating features and news pieces on health, beauty, and fitness, wellbeing, and food. She loves to practice what she preaches in her everyday life with copious amounts of herbal tea, Pilates, and hyaluronic acid.