Sugary fruit pouches can lead to tooth decay and weight gain in children, experts warn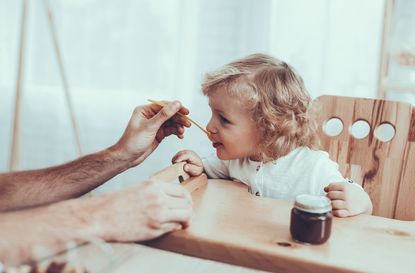 (Image credit: Getty)
Experts have issued a warning to parents against sugary fruit pouches, recommending they opt for fresh fruit and vegetables instead.
The warning comes as experts at the Royal College of Paediatrics and Child Health (RCPCH) fear that consuming too many of the sugar-laden pouches could lead to a range of worrying health conditions, like tooth decay (opens in new tab) and dangerous weight gain (opens in new tab).
The organisation's report warned that even food marked 'no added sugar' could still be harmful, as they contain naturally-occurring sugars, which can also be detrimental to health.
Read more: Daily sugar allowance - How much sugar should children REALLY eat and drink? (opens in new tab)
They stipulated that tougher regulations are needed around all 'free sugar', which refers not only to sugar added by manufacturers, but also to natural sugar present in ingredients like honey, syrups and fruit juices.
Researchers added that ready-made fruit and vegetable jars and pouches have risen in popularity as a result of parents becoming busier, but that relying on these products can lead to children over-consuming sugar.
Even those considered 'healthy', like Ella's Kitchen or Cow & Gate, should be avoided.
They also added that even sweet home-made purees can be harmful, as, not only do they contain a lot of naturally-occurring sugars from the fruit that is used, but they also lead to babies becoming more accustomed to sweet flavours, meaning that they are more likely to develop an aversion to vegetables.
'Baby foods can be labelled 'no added sugar' if the sugar comes from fruit,' said Professor Mary Fewtrell, the RCPCH's nutrition lead, 'but all sugars have the same effects on the teeth and on metabolism.
Read more: Hidden sugar in kids foods - What's in your child's favourites?
'It's important to recognise that babies have an innate preference for sweet tastes but the key is not to reinforce that preference and to expose them to a variety of different flavours and food textures,' continued Professor Fewtrell.
'Babies are very willing to try different flavours if they're given the chance,' she added, 'and it's important that they're introduced to a variety of flavours including more bitter-tasting foods such as broccoli and spinach from a young age.'