Holly Matthews reveals the surprising way she helped daughters cope after husband died
Holly helped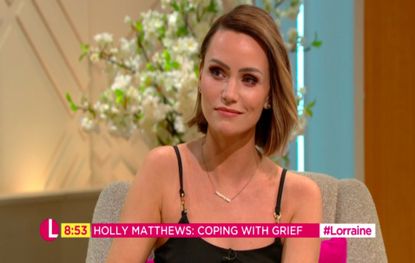 Waterloo Road and Byker Grove star Holly Matthews joined Lorraine this morning, to talk about how the family are coping two years on from husband Ross' death.
Ross passed away due to a rare form of brain cancer, leaving eight-year-old Texas and six-year-old Brooke without a father. Helping a child deal with loss isn't easy, but Holly shared her surprising parenting technique that encourages the girls to vent.
'It's not the parent I thought I would be, but this is the reality of stuff. So when the feeling of anger comes up… they're little people and so in their bedrooms at night I say "Right, this is your room, you can swear, you can stomp, you can scream."'
'I encourage them to do it, because it helps them. They can jump on the bed, they have a little trampette and get it out. It doesn't need to be sat inside.'
On top of this, Holly Matthews and her daughters have been embracing the new, as she revealed: 'Everything's new. New house, new car, new school. It wasn't really intentional as such, but personally I think it helped.'
She also admitted she's very open about what happened: 'We talk about Ross and we kept everything open from the very beginning and that's all you can do. They cry when they need to cry and they laugh when they need to laugh'
'There's no question that they can't ask me and I think that's really important.'
Since her first appearance on Lorraine discussing the loss of Ross, Holly set up some workshops to help others who are also dealing with grief.
The Happy Me Project workshops are based around achieving a positive mindset and she has been touring these around the country.
Holly revealed that her workshops can be beneficial to anyone, even if they're not currently experiencing grief: 'The last time I came on the show, it was such a great platform, and I think people watched me and they went "How is she dealing with it as she is?"'
'And not just people who are grieving, but men and women who just can't deal with the fact that the ironing is up the wall. And they're watching and going "I need some guidance."'
You can find out more about the workshops at Holly Matthews' website www.iamhollymatthews.com.
Watch Lorraine weekdays from 8.30am on ITV.