Former EastEnders actress Kacey Ainsworth quit acting after her son was diagnosed with autism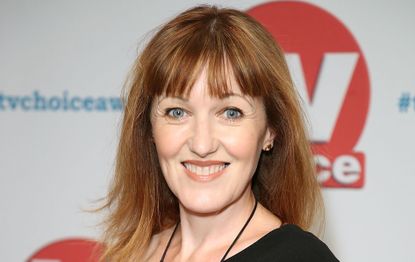 Former EastEnders actress Kacey Ainsworth took a lengthy career break after her son Elwood's diagnosis.
Kacey Ainsworth has revealed that she gave up acting for seven years after she was told that her son Elwood had autism.
Speaking to The Mirror, Kacey, 50, disclosed that she had limited her portfolio to just one acting job a year after Elwood, who is now 11 years old, was diagnosed with the condition when he was six.
Kacey admitted that she decided to cut down on her acting commitments as things would be 'too chaotic' for her son otherwise.
The actress, who is also mother to 14-year-old daughter, Blossom, with partner Darren Hales, has spoken about Elwood's development since his diagnosis, and insists that he is a very happy child who loves nothing more than playing sports such as football, hockey and rugby.
Autism could be diagnosed at birth with new hearing test
The Granchester star also explained that it wasn't until Elwood was three that she had suspected he was autistic, after it was brought to her attention by a nursery school teacher.
Speaking of this challenging time, Kacey said: 'I was really shocked. He went to our local communication disorder clinic and I sat behind glass and watched my child being assessed by an educational psychologist, speech therapist and a child psychologist. It was excruciating.'
She continued: 'It was a sad day, because you have a baby and you want things to be normal. You have to go through that grieving process where you think - this isn't what I'd set out for.'
Kacey is now an ambassador for Anna Kennedy Online and ADD-Vance, after initially seeking advice from both organisations.
What is autism? Everything you need to know about the spectrum disorder
The actress developed a loyal fan-base as a result of her role as Little Mo in EastEnders, featuring on the show from 2000-2006.
She then returned to acting in 2014 to play Geordie Keating's wife on Granchester, a TV series about a vicar who decides to pair up with an Inspector to solve a series of murders in a sleepy English town during the 1950s.
Parenting advice, hot topics, best buys and family finance tips delivered straight to your inbox.
Freelance Lifestyle Writer
Niamh McCollum is a freelance lifestyle writer who has written for Future titles GoodTo and Marie Claire UK, plus the Irish Independent. The Dublin-based journalist specialises in stories
affecting families - from health updates, to the freshest parenting debates and celebrity announcements.