Katie Price is warned her five-year-old son Jett could get salmonella as she shares 'worrying' photo
Some of the fans 1.90 million Instagram followers were quick to share their concerns...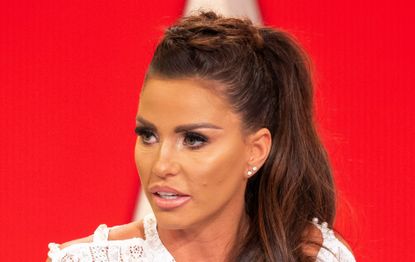 Katie Price fans have shared their concern about a photo of her five-year-old son Jett 'kissing' one the family's pet turtles.
Sharing the image on Instagram, the reality star captioned the shot with the words:
'Sooo cute Jett holding Harvey's turtle named Gummy Bear.'
The sweet snap stirred up debate among some of the star's 1.9 million followers, with some warning the mum-of-five that she was putting her child at risk of salmonella.
One wrote: 'Really shouldn't handle them as carry Salmonella! Please be careful.'
While a second added: 'Please take care... turtles carry salmonella!!!! Xx.'
A third continued: 'They carry Salmonella be careful with the little one X'
Another offered up this piece of advice: 'We have turtles also... and yes they do carry lots of bacteria and can carry salmonella so when the kids handled them we always worse gloves. But they are very save [sic] to handle!'
Salmonella is a bacteria that can often found in living in food and is one of the most common causes of food poisoning.
According to an NHS guidance leaflet from Buckinghamshire Heatlhcare 'exotic pets particularly reptiles carry salmonella' as well, and those who handle them are advised to washed their hands thoroughly after caring for them.
While it seems that concerned fans did have some cause to worry, others seemed to take the photo as a lovely memento of child-pet bonding.
One wrote: 'Omg just adorable! My son Harvey wants to have these as pets are they hard work? X'
A second added: 'How cute! Don't worry I'm not about to lecture you, just admiring.'
A third commented: 'Awww so sweet! How is handsome Harv today? Hope he is well.'
And another couldn't help but gush over the pet's name: 'My granda was nicknamed gummy bear he's so cute x'
What do you think of image? Do you think some fans were right to point out the potential pitfalls of handling exotic pets? Join the conversation on our Facebook page.
Freelance Lifestyle Writer
Miriam Habtesellasie is a freelance lifestyle writer who has contributed content to GoodTo, Woman&Home, Women and Idealhome.co.uk. Miriam is based in London and is a fan of everything interiors, she admits to being spoilt for choice living in the capital. From stunning architecture right the way through to eye-catching department store window displays, she believes there's always an angle to be found that can translate to our abodes.