Kirstie Allsopp sparks debate with her latest controversial parenting technique
What do you think about Kirstie's approach?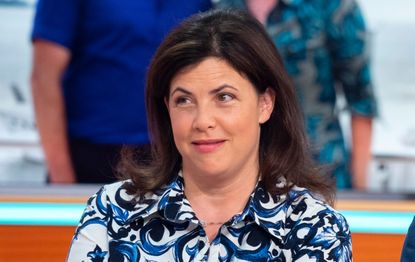 Kirstie Allsopp has been criticised for losing her temper in front of her children, after admitting to smashing their iPads after they broke her screen-time rules.
Managing screen-time is one of the most difficult things that modern parents have to tackle. Kids are increasingly spending more and more time attached to their phones, tablets or other computer devices and games.
The issue has become so serious that some children have been entered into rehab.
Mum-of-two Kirstie Allsopp recently admitted in an interview with Channel 5's Jeremy Vine that she took drastic action and smashed her children's iPads because they broke her rules about screen-time.
She said: 'This is the first time I've said this publicly. In June I smashed my kids' iPads, not in a violent way. I actually banged them on the table leg.
'There is a game called Fortnite and another PUBG (PlayerUnknown's Battlegrounds) and I decided... we had made all sorts of rules and all sorts of times when we said you can't play them and all those rules got broken and in the end I said: "Right that is it, I have to physically (break them)".'
The admission has sparked debate online with several arguing that it is a reckless waste of money and others stating that she shouldn't have lost her tempter and lashed out.
How often do you find yourself in a battle over screen-time?
One person Tweeted: 'Kirstie Allsopp smashing her kids iPads to teach them a lesson is just. It literally makes me feel sick. Why do people think abuse is just acceptable'.
A third wrote: 'Kirstie Allsopp smashed her children's iPads. What a terrible example to set! Take them away, give them to those who can't afford one but would appreciate it. But to smash them up..in front of the children? What's that teaching them..tantrums are ok!'
However, some people have defended Kirstie's decision and said it has probably taught her children the lesson she wanted.
One person said: 'My take on the Kirstie Allsopp / iPad thing... there's nothing worse than feral kids with no discipline and no consideration who ignore their parents because the threats of punishment are never carried out. Her kids will probably take her seriously next time..'
Another wrote: 'All these people banging on to #KirstieAllsopp about her breaking her kids iPads saying "you should've donated them to charity" like they're so f***ing righteous and perfect! Her choice! Her money!'
What do you think about Kirstie's actions? Should she have handled it differently? What would you have done? Head over to our Facebook page the join the conversation, we'd love to hear your tips and thoughts!