Lullabies and bedtimes stories are dying out, study finds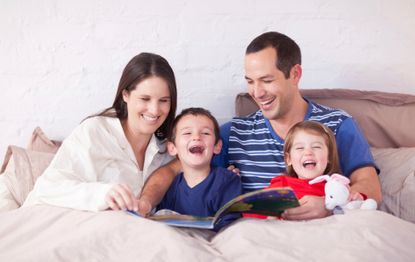 Studies have shown that the bedtime rituals of singing lullabies and reading stories are dying out, despite the huge benefits that they can bring to a child's emotional wellbeing and development.
When is the last time you tucked your child into bed and watched them drift off into the land of the zZzZz's after singing them a sweet lullaby or reading them a bedtime story?
These bedtime rituals have long been treasured by families, but recent studies have shown that demanding working hours and busy schedules have had many parents adopting them less frequently.
The studies have also found, however, that both lullabies and bedtime stories are massively beneficial to your children's personal development for numerous reasons.
So if it's been a while since you've indulged in either of these activities, then it's time for you to integrate them back into your household's bedtime rituals.
Let's first take a look at lullabies...
Singing a lullaby to soothe your baby to sleep might seem like a tradition that is dying out. In fact, according to a YouGov poll, only just over a third of new parents with kids under the age of five sing lullabies at bedtime.
A recent study, however, has suggested that we should actually be bringing lullabies back.
The study, which was carried out by the University of Montreal, reported that singing keeps babies calm twice as long as talking to them.
As well as this, lullabies are also scientifically proven to be an essential precursor to educational success and emotional well-being, according to the director of the Institute for Neuro-Physiological Psychology.
So, although you sadly might not have been gifted with the same vocal range as Alicia Keys, your baby still likes your singing voice and can hugely benefit from hearing it before bed.
And, how about reading? There's no doubt that reading to your child before bed does a whole lot of good for both reader and listener. It not only helps children develop their reading skills, but also allows them to expand their imaginations by momentarily escaping into another little world.
Author Frank Cottrell Boyce has spoken in even more detail about the benefits of bedtime reading:
'Great ideas come from people who are able to bring their whole selves – emotional as well as rational, memory as well as logic – to bear on problems. Bedtime stories give reading an emotional depth.'
World Book Day: 50 books everyone should read before they turn 16
Experts have warned, however, that this sweet tradition is in peril as parents are too busy to read to their children at the end of the working day, or stop reading to them at too young an age.
A study, which was carried out by YouGov, revealed that one-in-five of the parents surveyed stopped reading aloud to their children before the age of nine, and almost a third of children aged six-11 years old wanted their parents to keep reading to them even after the ritual stopped.
Catherine Bell, managing director of Scholastic, said of the findings: 'When parents stopped, the children wanted them to continue. They thought it was a really special time with their parents and they felt really positive about it.'
It seems that not only is reading before bed hugely beneficial for your child's development, but it's also valued by them as a special bonding experience that brings them closer to you.
So, if you're keen of increasing your chances of having a calm baby and a clever kid, read and lull to your heart's content.
Freelance Lifestyle Writer
Niamh McCollum is a freelance lifestyle writer who has written for Future titles GoodTo and Marie Claire UK, plus the Irish Independent. The Dublin-based journalist specialises in stories
affecting families - from health updates, to the freshest parenting debates and celebrity announcements.