Mother's voice more effective than a smoke alarm for waking children
This could change so much...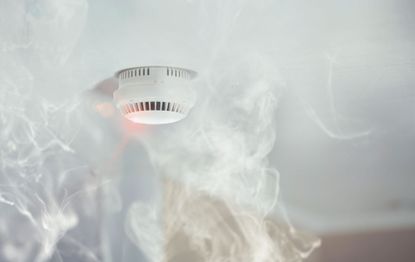 (Image credit: Alexander Kirch / EyeEm/Getty Images)
GoodTo newsletter
Sign up to the GoodTo Newsletter. You can unsubscribe at any time. For more information about how to do this, and how we hold your data, please see our privacy policy
Thank you for signing up to . You will receive a verification email shortly.
There was a problem. Please refresh the page and try again.
Official UK government figures show that approximately 80 per cent of fire fatalities occur within the home.
Now US scientists have discovered a potentially innovative way more lives could be saved, revealing that a mother's voice could hold the key to alerting families of impending danger.
176 children took part in the study conducted by the research team at the Nationwide Children's Hospital in Ohio and published in the journal Pediatrics.
Testing children's reactions to traditional high-pitch smoke alarm with voice-based ones in a sleep laboratory, they made a surprising discovery.
While just half of children were stirred from the deepest phase of sleep by the blaring noise of a conventional smoke alarm, nine in ten children woke up when an alarm modified with a recording of a mother's voice urging them to get up was used.
Explaining why some participants didn't wake up the researchers revealed that children's sleep is both longer and deeper than adults making them 'remarkably resistant' to sounds once in land of nod.
Commenting on the study findings Dr Mark Splaingard, one of the researchers, said:
'The fact that we were able to find a smoke alarm sound that reduces the amount of time it takes for many children five to 12 years of age to wake up and leave the bedroom, could save lives.'
The team now want to examine whether these modified alarms will only work in the case of using a mother's voice, or whether any voice will be just as effective. They also want to test if such alarms could have an impact on adults.
Rick Hylton, from the UK's National Fire Chiefs Council, said he was looking forward to seeing how the research findings developed.
He said: 'People shouldn't be concerned about the effectiveness of their current smoke alarms.
'We know smoke alarms save lives so we ask that people ensure they have installed smoke alarms.
'They will alert occupants early if working, fitted and installed in the correct location. This gives adults, parents or guardians the opportunity to wake children, and leave the house.'
Miriam Habtesellasie is a freelance lifestyle writer who has contributed content to GoodTo, Woman&Home, Women and Idealhome.co.uk. Miriam is based in London and is a fan of everything interiors, she admits to being spoilt for choice living in the capital. From stunning architecture right the way through to eye-catching department store window displays, she believes there's always an angle to be found that can translate to our abodes.