Mum struggles to explain why she needs a bumper pack of Kleenex in hysterical Amazon review
Who can relate?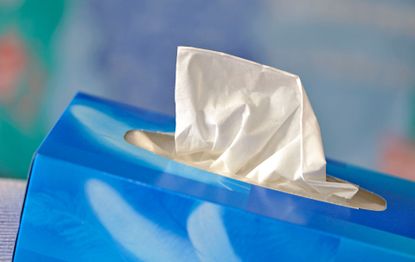 (Image credit: Universal Images Group/Getty Images)
GoodTo newsletter
Sign up to the GoodTo Newsletter. You can unsubscribe at any time. For more information about how to do this, and how we hold your data, please see our privacy policy
Thank you for signing up to . You will receive a verification email shortly.
There was a problem. Please refresh the page and try again.
A mum-of-three boys has left fellow parents in hysterics after an Amazon review which hinted at the reason behind her family's need for a regular supply of bumper boxes of Kleenex.
Rather than be explicit, the anonymous purchaser left other shoppers at the online retailer to read between the lines, simply stating that 'a woman has got to be practical'.
Continuing to skirt around the subject that many parents may feel too uncomfortable broaching openly, she added: 'I want to start this off by thanking Kleenex for selling these in 36-packs.
'I've put it on subscription, and if they want to start selling a 72-pack, sign me up. I have three reasons for needing this much Kleenex, and their names are Liam, Samuel and Hank.'
The mother also went to reveal how the scenario for her children would play out if Kleenex supplies weren't kept at an optimum.
'This is how it goes in this house. First the Kleenex disappears. Then the toilet paper. Then they go for fabrics.
'And you don't want it to get there, unless you're ready to invest in a five gallon drum of Fabreeze.'
And in another side-splitting portion of her review, she confessed that her teenagers think she is oblivious to the goings on in the household, which is far from the case.
'The funny part is, they think they're being sneaky, with their 45 minute showers and sudden need for 'privacy', as if I'm going to walk in on them journaling,' she wrote.
'They slink around the house like unfixed cats, while I try to announce my location at all times.'
Going on to reveal how she treads the fine line between being discreet and making her presence known, she says: 'No one needs to ask me to knock anymore. I knock on the walls. I practically wear a cow bell. I'm not looking to catch anyone by surprise, believe me. I'm just trying to get through this.'
But it seems that her husband – despite once being a teenage boy himself – hasn't quite made the connection between tissues and unspoken teenage issues.
'The other day my husband was watching me unload the groceries, and he asks me, all sweetness and light, "Honey, what're you doing with all that Kleenex?"
'I about knocked him off his chair.'
Scores of commenters reacted to the relatable review. One said: 'I can so relate! Mother of three boys here! Thanks for the laugh!'
While another revealed: 'I have 3 boys of my own. We haven't reached this stage...yet. I think I am going to go ahead and start stockpiling Kleenex for the future.'
This might be funniest thing we'll read all day...
Freelance Lifestyle Writer
Miriam Habtesellasie is a freelance lifestyle writer who has contributed content to GoodTo, Woman&Home, Women and Idealhome.co.uk. Miriam is based in London and is a fan of everything interiors, she admits to being spoilt for choice living in the capital. From stunning architecture right the way through to eye-catching department store window displays, she believes there's always an angle to be found that can translate to our abodes.