Mum criticised for throwing away all of her children's toys
What's your reaction?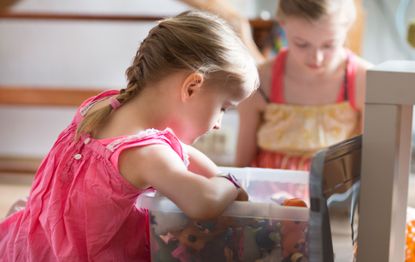 (Image credit: Elva Etienne/Getty Images)
GoodTo newsletter
Sign up to the GoodTo Newsletter. You can unsubscribe at any time. For more information about how to do this, and how we hold your data, please see our privacy policy
Thank you for signing up to . You will receive a verification email shortly.
There was a problem. Please refresh the page and try again.
A blogger and mum-of-two has revealed that she has seen an amazing shift in her children's behavior, after she made the dramatic decision to throw all their toys away.
In an article on her blog Living Well Spending Less, Ruth – who has one daughter in seventh grade and one daughter in fourth grade - revealed that she became 'fed up' of tidying away and arranging her little one's playthings. And taking matters into her own hands she decided to pack up their toy selection and take it away.
Revealing what inspired the unusual move, Ruth Soukup explained that an incident involving her oldest daughter Maggie had led her to question whether owning toys was actually having a positive impact on her children.
She wrote: 'While we were waiting to be seated, my oldest daughter Maggie spotted the Build-a-Dino Workshop in the gift shop and although we immediately said "no way," from that moment on she could think of nothing else.'
Continuing, she expressed her disappointment at the fact that her child was 'fixated on the one thing she couldn't have rather than the cool sights we were actually experiencing'.
But just four weeks after toys had been removed from the equation, Ruth claims that her children's behaviour had changed for the better, with the youngsters no longer asking her to purchase them things.
She added: 'Had I not experienced it with my own eyes, I would've never believed that an addiction to stuff could be broken that quickly. The truth is that when I took all their stuff away, I was terrified at what would happen. I worried that I was scarring them for life, depriving them of some essential developmental need, taking away their ability to self-entertain.'
And instead of relying on toys to keep them amused, she argued that her children now draw on their imagination and initiative.
She wrote: 'In reality, the opposite has happened. Instead of being bored, they seem to have no shortage of things to do. Their attention span is much longer and they are able to mindfully focus on their task at hand. They color or read for hours at a time and happily spend the entire afternoon playing hide & seek or pretend.'
The post was met with mixed reactions from fellow parents.
One wrote: 'What a terrible thing to do to a child! When a kid says they're bored, give them a book to read or have them research a new topic. Give them something to be creative with. Don't punish them for expressing a completely human emotion, help them learn. I can't imagine who lets these people work with kids, when they clearly don't understand them at all..'
While another offered full support for the idea: 'GREAT post! I don't buy my son toys almost at all, but his Grandma enjoys buying him stuff and is a very sweet and generous person. I think what stops me from clearing out his room the most is knowing that she had such a good heart in getting him stuff. How do I get rid of stuff without looking ungrateful??'
What do you think of the decision? Would you consider doing the same in your household? Join the conversation on our Facebook page.
Freelance Lifestyle Writer
Miriam Habtesellasie is a freelance lifestyle writer who has contributed content to GoodTo, Woman&Home, Women and Idealhome.co.uk. Miriam is based in London and is a fan of everything interiors, she admits to being spoilt for choice living in the capital. From stunning architecture right the way through to eye-catching department store window displays, she believes there's always an angle to be found that can translate to our abodes.