Mum defies medical advice to give birth to four healthy babies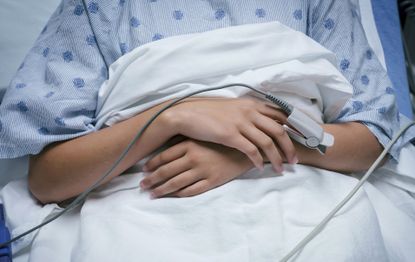 Mum-to-be faced a harrowing ultimatum after she learned she was carrying quadruplets.
A mother has opened up about how her decision to ignore medical advice, which resulted in her giving birth to four healthy children.
When Kendall MacDonald was told by doctors that she was carrying a set of quadruplets, she was given the devastating news, at three months pregnant, that there was a very real chance that not all of the babies would survive.
The doctors then advised the expectant mother that her unborn children's chances of survival would be better if reduced the pregnancy to twins, thereby asking her to choose which of her four quadruplets should live and which should die.
Speaking to FEMAIL, Kendall, who is from New Zealand, recalled the moment she was told the heartbreaking news by doctors: 'I was 12 weeks pregnant and it was suggested for the sake of my health and my babies' health that I reduce my pregnancy by one set of twins.'
Kendall and her husband Josh, who have a three-year-old son named Brooklyn, were elated to discover she was pregnant with the quads after three years of trying to conceive again.
Read more: Mum warns of rare pregnancy compilation that nearly killed her and her unborn baby
'I suffered from polycystic ovary syndrome (PCOS) and endometriosis which made it difficult for me to conceive as I wasn't ovulating regularly. Even getting pregnant with Brooklyn came as a big surprise.'
Kendall also suffered toxic shock syndrome after Brooklyn's birth, which left her with scarring on the uterus that doctor's warned would make it difficult for her to fall pregnant as well as carry a baby to term.
After trying a drug known as Clomifene, which accelerates ovulation within the body, the couple were shocked and thrilled to discover she was pregnant with not just one, but four babies: 'It usually doesn't happen that fast for people but obviously, that upped dosage created a lot of eggs.'
The couple's excitement was shortly brought to an end, however, when the doctors delivered their dire ultimatum. After being given two weeks to make their decision, Kendall and Josh sought to seek out the opinion of two other specialists.
While one agreed with the advice of her obstetrician, another wasn't so sure: 'This obstetrician said: "If you are having no issues and you want to go ahead, then why don't you?'''
The couple then were advised that if Mrs MacDonald could make it to 28 weeks without going into labour, the quads would be in with a fighting chance, helping the couple come to their decision to resist choosing between the babies.
'I was told that if I went into labour before 28 weeks, the babies wouldn't survive. So the first goal was to get to 25 weeks, with an ultimate goal if 28 weeks.'
Kendall received a surprise, however, when she went into labour at 28 weeks. She was taken straight to theatre and had a Caesarian section to deliver all four of her babies.
With the help of surgeons, Kendall gave birth to three beautiful girls, Quinn, Indie and Molly, and a bouncing boy, by the name of Hudson.
Read more: Mum 'doing well' after giving birth to seven babies naturally
As the babies were born so early, they needed to spend time in NICU because they weren't strong enough to breathe on their own without breathing tubes.
Once the babies reached 12 weeks, Kendall, at home with all of her children at last, said she finally 'felt like a mum of five.'
The mum touchingly revealed: 'All this time, I'd been so terrified of losing my precious babies I hadn't allowed myself to get excited.'
The quads have just reached their six-month milestone and Kendall has revealed her family and perfectly healthy and very happy: 'It's not easy but it's easier than we expected it to be. I can't believe we're on the other side of it and four healthy babies, they are all miracles.'
Freelance Lifestyle Writer
Niamh McCollum is a freelance lifestyle writer who has written for Future titles GoodTo and Marie Claire UK, plus the Irish Independent. The Dublin-based journalist specialises in stories
affecting families - from health updates, to the freshest parenting debates and celebrity announcements.