Mum shares genius hack to blow up your inflatables WITHOUT using a pump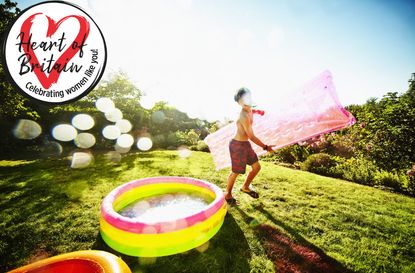 (Image credit: Getty Images)
GoodTo newsletter
Sign up to the GoodTo Newsletter. You can unsubscribe at any time. For more information about how to do this, and how we hold your data, please see our privacy policy
Thank you for signing up to . You will receive a verification email shortly.
There was a problem. Please refresh the page and try again.
A mum has shared a genius hack to blow up your inflatables when you don't have a pump near…
Summer is fast approaching, and with warm weather out come the paddling pools and all the inflatables (opens in new tab) so grown ups and little ones can have a fun time in the sun.
But before everyone can relax in the sunshine, you first need to inflate them. And whilst that's an easy task if you have a pump nearby, having to use your lungs to is enough to put anyone off from a dip.
Thanks to a genius hack though, you'll never have to blow into a paddling pool ever again – all you need is your hairdryer and a plastic bottle.
Claire Wilcockson shared the ultimate trick on the Facebook group Extreme Couponing and Bargains UK group, explaining how she inflates her pool without spending money on a pump.
Tested: Best and worst sun creams revealed (opens in new tab)
Alongside a picture of how she did it, Claire wrote: 'Save yourself some pennies on an expensive pump... Cut the top off a juice bottle and use your hairdryer (make sure its on a cool setting obviously)!
'Pumped up my pool in less than 30 seconds 😎'.
People were surprised about the trick, with many commenting to say that they will definitely try the hack this summer.
One said: 'Saves us all nearly exploding our lungs every year 😂😂'.
A second said: 'Omg this is a brilliant idea.'
Another added: 'I will be trying this... guess who didn't buy a pump last year when they bought the paddling pool.'
Others also confessed they already knew about the hack.
One user wrote: 'See im not the only one who uses a hair dryer 😂😂'.
Another said: 'Haha I did the same thing with my hairdryer , Also good for inflatable beds etc .😊'
Did you know about this hack? Head over to our Facebook page and let us know!