Mum reveals hack to keep baby cool during heatwave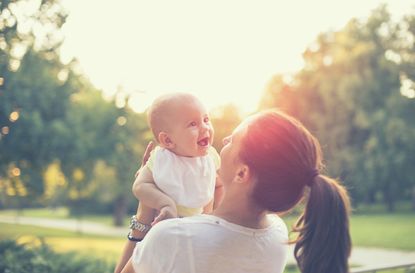 (Image credit: Getty)
A mum has revealed a clever hack to keep babies cool during a heatwave.
When it comes to keeping cool in the hot weather it can sometimes feel impossible.
Sure, when it's cold it's easy to warm up with central heating, a hot water bottle and layers of jumpers, blankets and dressing gowns.
But when summer heats and the mercury increases there are only so many things you can do to try and keep cool, especially when the temperature hits 38 degrees Celsius and gives us one of the hottest days in British history.
And while the heat makes all of us a little fed up and cranky, it can be even harder on any little ones around.
So one mum has come up with a handy hack to keep tots cool when the weather's got us all breaking into a sweat.
Taking to Facebook to share her nifty tip, mum Heather Malcolmson shared an image of her Asda Little Angels baby wipes sitting in a rather unusual household place.
Far from the side of the baby-changing table in the nursery, Heather revealed that she keeps her baby wipes on a shelf in the fridge.
https://www.facebook.com/photo.php?fbid=10157306957423363&set=a.474676108362&type=3&theater
'Absolute god send in this heat if anyone else has babies or little ones,' she wrote alongside her snap, 'just pop a pack of baby wipes in the fridge, and give them a cooling wipe down when they need it.
'This has kept Jack's temperatures down as he doesn't cope too well if he gets too hot, it makes him sick, keep cool everyone and stay hydrated xx'.
Read more: Hot weather - How to cope with a heatwave and tips for heat stroke (opens in new tab)
She then added to the post: 'Please if you have a little one under a year, be careful using this idea as they can't regulate their temperatures like older little ones can.
'Also if you are unsure in any way, please consult a medical professional first, I in no way want anyone to harm their little ones, I just personally found this worked wonders for my little boy, and wanted to share to try and help'.
We might have to try this one…even if it just to use on ourselves!
Aleesha Badkar is a lifestyle writer who specialises in health, beauty - and the royals. After completing her MA in Magazine Journalism at the City, the University of London in 2017, she interned at Women's Health, Stylist, and Harper's Bazaar, creating features and news pieces on health, beauty, and fitness, wellbeing, and food. She loves to practice what she preaches in her everyday life with copious amounts of herbal tea, Pilates, and hyaluronic acid.