Defiant mum refuses to be shamed for sharing pictures of herself breastfeeding her two-year-old
What's your reaction?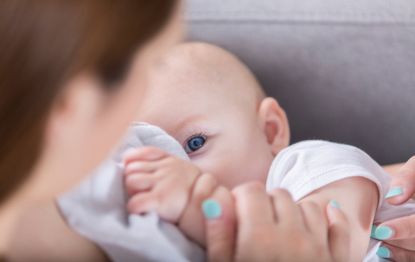 (Image credit: Steve Debenport/Getty Images)
A mum from Canada has refused to back down after being criticised for sharing photos of herself breastfeeding her two-year-old, alongside her newborn on Instagram.
Amy Layne from Vancouver is currently feeding her two-year-old daughter Ever as well as her eight-week-old daughter, True, and wanted to share her experience with her thousands of followers.
The holistic nutritionist and life coach has clocked up more than 5,000 followers over the years, sharing beautiful shots of her family life, home and healthy lifestyle.
But in an post on Instagram earlier this month – featuring the first image from the above gallery – Amy described how she noticed that she lost some Instagram followers following a backlash over images of her breastfeeding her oldest daughter.
She later revealed she has received some message telling her that sharing the pictures was 'disgusting'.
Writing on Instagram, Amy stated: 'I lost 30 followers after sharing a photo of me breast-feeding Ever. So in response I will be sharing a breast-feeding photo once a week indefinitely. I'm kicking this off with the highly offensive photo of me breastfeeding two children at once (one being over two years old). #normalizebreastfeeding #calmyourtits (Also, we are all vegan, I had vegan pregnancies and gave birth naturally without any medication if you want to really cap off your outrage)'
Updating her followers more than two weeks later on the reactions to the image she revealed that, although not everyone had been supportive, she was happy to have opened up a conversation that would help to normalise breastfeeding.
She wrote: 'I am still receiving so many messages and emails about the picture of me breastfeeding the girls. For all the love thank you. For all the hate I love you anyway. Keep the conversation going. #normalizebreastfeeding.'
Many were quick to respond to the post in praise of the mum-of-two.
One wrote: 'Keep giving your babies that liquid gold! From one nursing mama to another, I support you!'
While another added: '16 months in with my third here. So far I've nursed at the eldest's school play, the dentist office in the chair, the eye doctor, and the hair dresser. Nothing but support from me!'
A third continued: 'I breastfed both of my babies its the most natural thing to do I was even criticized by my own sister for it! You will always get those who make a big thing of it. After all these years its still frowned upon and its crazy. Keep doing what is best for your beautiful babies. Sending my support from the UK.'
An analysis of breastfeeding rates around the world in 2018 by UNICEF showed that 81 per cent of children were breastfed in the UK compared to a higher 89 per cent in Canada – despite both being classified as 'high income countries'.
NHS guidance on breastfeeding does not put a specific age limit instead it says:
'You and your baby can carry on enjoying the benefits of breastfeeding for as long as you like. Breastfeeding into your baby's second year or beyond alongside other foods is ideal.'
Freelance Lifestyle Writer
Miriam Habtesellasie is a freelance lifestyle writer who has contributed content to GoodTo, Woman&Home, Women and Idealhome.co.uk. Miriam is based in London and is a fan of everything interiors, she admits to being spoilt for choice living in the capital. From stunning architecture right the way through to eye-catching department store window displays, she believes there's always an angle to be found that can translate to our abodes.