Mum issues warning after son almost dies while playing with a blind cord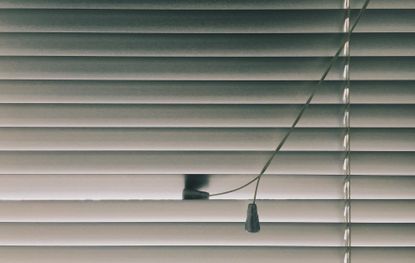 Three-year-old was almost strangled to death after trying to make a necklace with blind cord.
A mother from Utah has taken to Facebook to issue a warning to other parents after her three year old almost died in a terrifying incident involving a blind cord.
Arika Hernandez's son was in his room when he climbed to the top of his bunk bed and wrapped a blind cord around his neck.
The little boy had reached out for it, because he wanted to make a necklace, but the horrifying mistake led to him almost being strangled to death.
Hernandez has spoken out about the incident, in the hope that she can prevent other parents from going through the same ordeal.
Mum issues warning after daughter receives second-degree burns in slide
The mother posted five photos on Facebook, with four clearly showing the awful marks left on her little boy's neck, and one picture showing what the blind cord itself looks like.
In the post, Arika carefully detailed the terrifying sequence of events:
'Our sweet 3 year old boy is a survivor. On January 7th our son climbed up to the top bunk bed and wrapped the blind cords around his neck.'
https://www.facebook.com/arika.hernandez.9/posts/599782983790982
'He then began to walk down the latter as the cords tightened he panicked and tried to yell for mom and dad but nothing came out.'
She continued: 'He scratched the cords to loosen them but all he could grab was skin. At the last attempt to get free he jumped to come get us and that very jump saved his life! The cord snapped and freed him!'
The mother warned other parents: 'NO CORDED BLINDS ARE SAFE!', and listed one particular measure that parents can take to prevent such an accident happening in their own homes:
'They now sell cordless blinds and they are worth every penny.'
Arika also mentioned that the cords will remain a hazard to parents with young children, even if they are cut short: 'The cords can not be cut short to make them safer... there are still inner cords and if the cord is pulled so the blinds go all the way up, that pull cord will then be long enough to make a loop & strangle a child.'
The mum additionally considered families who had tragically lost loved ones following similar accidents, writing:
'My heart goes out the families that have lost their loved ones this way I am so sorry for that heart ache and can't imagine the pain you have gone through.'
Arika then pleaded with fellow parents to share her post to spread her warning far and wide: 'Please help me save the next kid and share this message.'
The post received hundreds of comments from mothers wishing Arika's little boy well and thanking her for sharing the post, with one user writing:
'Looks like it hurts, poor guy but he will heal. Great public service to share. You probably did save a life somewhere in the future'
Arika concluded her post by leaving this message for all families: 'hug the people that mean the most to you. Be grateful you have another beautiful day with them.'
Freelance Lifestyle Writer
Niamh McCollum is a freelance lifestyle writer who has written for Future titles GoodTo and Marie Claire UK, plus the Irish Independent. The Dublin-based journalist specialises in stories
affecting families - from health updates, to the freshest parenting debates and celebrity announcements.