78 per cent of mums get less than an hour to themselves each day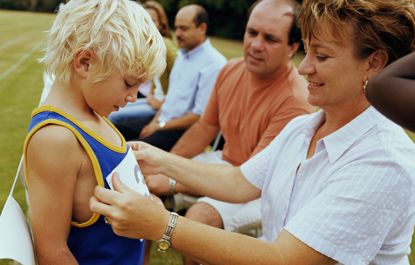 A new survey has revealed just some of the many sacrifices mums make for their children.
You may not be surprised to learn that 78 per cent of mums get less than an hour to themselves each day - and that 10 per cent feel that they don't get any time at all!
These stats come as apart of a new survey released by Next, which seeks to recognise all of the sacrifices mothers make for their children, and celebrates mums for being the incredibly selfless creatures they are - just ahead of Mother's Day.
Read This is how much sleep new mums really lose in their baby's first year
So if you feel like your kids don't understand how much you do for them, and wish they'd appreciate all of the little (and large) tasks you carry out for them on a daily basis, then you're not alone!
From endless hours of caring and preparing meals for your kids, to ferrying them around and cheering from the sidelines at school sport's days and football games, the Next survey looked at everything mums give and what they can expect in return....
Their findings revealed the average mum takes 3 days off work to look after their child when they're ill, and can also expect to spend an incredible 3 hours and 58 minutes a week spectating while their kiddies take part in sports an activities - an equivalent of 112 days across their offspring's childhood.
Reda more: Mums are happiest when kids go to bed at THIS time
On top of this, mums have the task of trying to remember 10 things a day for their kids, from P.E. kits, to permission slips and after-school appointments.
They also buy, on average, as many as 38 presents a year for their kids, between birthdays and Christmas.
What do you think about these findings - can you relate? Head over to our Facebook page and have your say!
Freelance Lifestyle Writer
Niamh McCollum is a freelance lifestyle writer who has written for Future titles GoodTo and Marie Claire UK, plus the Irish Independent. The Dublin-based journalist specialises in stories
affecting families - from health updates, to the freshest parenting debates and celebrity announcements.