Natasha Kaplinksy returns to spot where terrifying boat explosion almost killed her family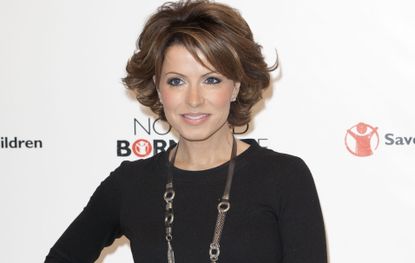 Last year TV presenter Natasha Kaplinksy and her family were thrown into the water during a boat explosion in Corfu. The incident left her young daughter Angelica with facial burns.
Natasha had been travelling on a boat with her husband, two children, and her mother and father when the explosion happened.
One year after the horrifying ordeal, Natasha returned to the site with her family in an effort to 'move on'. She was accompanied by her husband Justin Bower, Angelica, who is now nine, and their son, Arlo, 10.
The TV presenter shared a photo of Angelica looking out to sea on Instagram, with the caption: 'Facing our fears and completing the journey that went so wrong a year ago today 🙏🏻🙏🏻'
In April, Natasha appeared on Loose Women where she described the incident saying: 'Something terrible went wrong on the boat after about 15 minutes. It was long enough for us to be very far away from anywhere.'
'There was a leak in the fuel pipe and the boat stuttered and stopped…. It was like a James Bond moment. The whole boat just blew.'
Angelica suffered burns to her face and arms during the incident, which left them stranded in the sea for 45 minutes. Natasha described the length of time as a 'blessing in a way', because it meant that the scarring was less.
'There is nothing worse than being a mum and seeing your child injured and thinking about her wedding day and I just couldn't bear it.' Natasha admitted. Angelica was only eight-years-old at the time, and Natasha revealed she was unable to stop crying for most following the accident.
Speaking about the decision to go back, the star said she received advice from fellow presenter Claudia Winkleman. Claudia's daughter Matilda suffered burns one Halloween when her costume caught fire, and the family 'do something positive' on every anniversary.
'I thought that was a very good way at looking at what had happened to us.' Natasha explained.
'We went back to the spot where it happened on a different boat, which we hired. Brave? Maybe.
But I just thought that it was important for us, as a family, to conquer that fear and complete the journey that we didn't complete and that went so wrong on that first day. I wanted us to move on from it.'
Natasha said she was 'extraordinarily proud' of Angelica for being able to get back on a boat after the terrifying explosion. The presenter herself admitted she was 'traumatised for months', saying 'I was on a burning boat with everybody I loved, my parents, my husband, my children.'
Both Angelica and Natasha Kaplinksy have undergone EMDR (Eye Movement Desensitisation and Reprocessing) treatment, which is commonly used for extreme trauma, and is often used for war veterans.
Lucy Buglass is a Digital Writer for What's on TV, Goodto.com, and Woman&Home. After finishing her degree in Film Studies at Oxford Brookes University she moved to London to begin her career. She's passionate about entertainment and spends most of her free time watching Netflix series, BBC dramas, or going to the cinema to catch the latest film releases.