Parents share photos of kids' messy rooms after BBC presenter Nicky Campbell reveals daughter's 'unacceptable' bedroom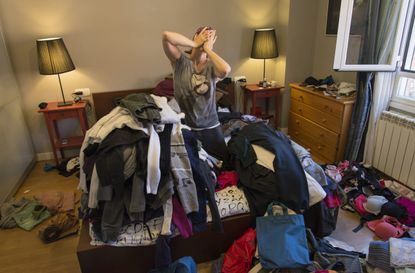 GoodTo newsletter
Sign up to the GoodTo Newsletter. You can unsubscribe at any time. For more information about how to do this, and how we hold your data, please see our privacy policy
Thank you for signing up to . You will receive a verification email shortly.
There was a problem. Please refresh the page and try again.
BBC presenter Nicky Campbell sparked controversy when he shared a picture of his daughter's 'unacceptable' bedroom, but many parents could relate…
It's a problem that most parents will be familiar with – kids and their messy rooms.
But when the dad was faced with his daughter's very untidy room, he decided to share just how bad it was with the Twittersphere.
Alongside the photographic evidence, he wrote: 'This is completely unacceptable. You are nearly 19 years old and I am bloody sick of it. I don't care that you were going to tidy it up. It just really pisses me off.'
Cue parents everywhere sharing their own frustrations because of their children's less than ideal tidying skills.
One wrote: 'I have two 18 year old daughters, this is exactly the same as both of their bedrooms, it drives me mad but it never ever changes. (They will be off to Uni soon & I know I would happily still have them at home with me, mess and all).'
Another jokingly said: 'It was only when my son moved to the USA that I (eventually) discovered what colour his bedroom carpet was!'
Others even shared picture of their own kid's messy rooms.
'I'll take your 19 y/o and raise you my 22 y/o medical student son, who's been home for 'minutes'', one said.
Another also shared a picture, saying: 'Mate, that's nothing. Amateurish even. THIS is untidy!'
But turns out that the problem is not exclusive teenagers. One Twitter user added: 'My wife is 34 and this is bloody nothing. Sometimes I sleep in the spare room as it's too hard to get to my side of the bed. But I love her.'
But despite many parents relating to Nicky's post, some called him out for naming and shaming his daughter so publicly on social media.
One said: 'Wrong to tweet this Nicky. This pic will now follow her for life when she's making friends, forming relationships, applying for jobs etc. You have invaded her privacy & possibly at some cost to her future. Keep parenting private!'
However, Nicky explained that the post had been a joke, of which his daughter was a part of.
'It's light hearted and with permission. I was initially horrified but we laughed and she helped me with the photograph' he explained.
'She is the funniest person I know she makes me laugh out loud but is very untidy.'
But amongst all the controversy, one mum seemed to have the perfect solution to keep everyone happy.
'This is a kid's life problem. It's not your problem. When I had my five teenagers in the house, I just gently closed the door on any room I didn't like the look of. Works wonders for the blood pressure.'
Maybe we'll just try that instead…