Study reveals nearly 90% of pregnant smokers fail to quit before their baby arrives
And of the ones who did, nearly half took it back up again...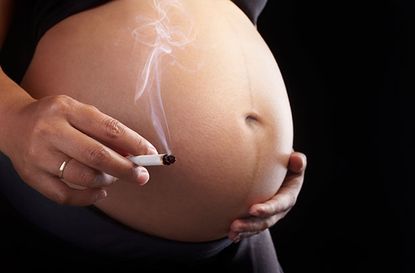 GoodTo newsletter
Sign up to the GoodTo Newsletter. You can unsubscribe at any time. For more information about how to do this, and how we hold your data, please see our privacy policy
Thank you for signing up to . You will receive a verification email shortly.
There was a problem. Please refresh the page and try again.
Nearly 90% of expectant mothers who already smoke are failing to give up during their pregnancy (opens in new tab) it has been revealed.
A study by experts from Nottingham and York Universities has uncovered that 87% of pregnant mothers were still smoking by the time their baby arrived. The study looked at over 9000 women and 23 trials to asses the figures.
The habit, which can harm a foetus, is of concern to doctors. Speaking to Baby Centre obstetrician-gynecologist Robert Welch says, 'Smoking cigarettes is probably the No. 1 cause of adverse outcomes for babies'.
Of the minority of women who manage to quit smoking during their pregnancy, nearly half take it up again before their little one is more than six months old. Data involving 571 women showed 43% of those who kicked their habit took it back up within six months.
This news comes as many question whether the money being used by the NHS to help pregnant women quit smoking is being used in the best way. Speaking to Metro Dr Matthew Jones, based at Nottingham, said: 'Our reports reveals a wide gulf between what pregnant women need to quit smoking and what healthcare services currently provide.'
It is thought that the NHS spends somewhere in the region of £24 million on treating babies and children after they develop health problems that directly link to smoking during pregnancy.
Cigarette smoke can contain more than 4000 chemicals with nicotine and carbon monoxide being especially harmful to unborn babies. Potential complications as a result of exposure to these chemicals include premature delivery, low birth weight and even stillbirth in some cases.
Speaking to Metro, charity Action On Smoking And Health said, 'all smokers in the home need to be encouraged to quit.' Mentioning the added potential risk of passive smoking they continued, 'Wherever it comes from, smoke raises the risks of breathing problems and sudden infant death'.
[apester]56e92342703e265d1846f64e[/apester]