Rochelle and Marvin Humes open up about having a third child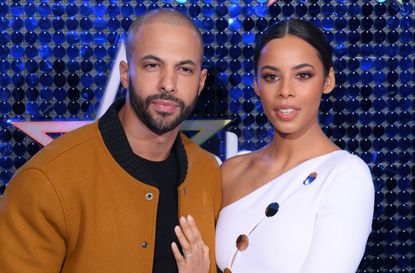 GoodTo newsletter
Sign up to the GoodTo Newsletter. You can unsubscribe at any time. For more information about how to do this, and how we hold your data, please see our privacy policy
Thank you for signing up to . You will receive a verification email shortly.
There was a problem. Please refresh the page and try again.
Rochelle and Marvin Humes have opened up about having another baby, and it might not be long until Alaia and Valentine have another buddy to play with…
The pair already have two kids together, but they could soon start planning for another bundle of joy.
The former pop stars were asked if they were planning to have any more children at the Global Awards, and while they seem to have their hands full at the moment with a new puppy, they haven't ruled out more little ones.
Rochelle told Mail Online: 'We've just got a puppy! It feels like we have another baby because we are toilet training again.
'We have a baby that's about to turn two, so we're okay right now. But never say never.'
Marvin added: 'We've got a five year old, a two year old and a puppy. Our hands are full at the moment.'
Marvin and Rochelle have two daughters together - Alaia-Mai, five, and Valentina Raine, who will be turning two this month (opens in new tab).
They two tied the knot in 2012 at Blenheim Palace in Oxfordshire, just two years after starting dating in 2010.
READ MORE: The best time of year for a baby (opens in new tab)
Speaking about their marriage, Rochelle has said: 'It's a funny thing. I'm his biggest cheerleader ever and he's totally mine. When you're in a comfortable relationship, when he's done well, I feel like I've done well myself. We get just as excited as each other.
'I count myself lucky having Marvin. My mum did it on her own, and I think, "My goodness, we really lean on one another".'
The TV presenter, who replaced Holly on This Morning while she was in Australia, also said she's winging it as a mum, like everyone else.
She said: 'In terms of motherhood, I just treat each day as it comes. Marvin and I sit down on a Sunday and figure out the week. I was brought up with my mum working every hour God sends and it's important to show children that you have to graft.
'But do you know what? I'm winging it like everyone else. There's no recipe, no formula. I'm lucky I've got a good support system.
'I don't have a nanny. My mum has been a paramedic for so long but has slowed down with that now. I also have a very good babysitter who is nearby. My eldest is in school.'