Russell Brand labelled 'sexist' by fans after sharing his views on parenting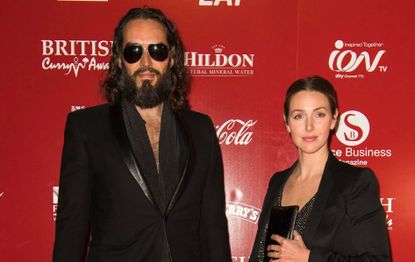 Goodto Newsletter
Parenting advice, hot topics, best buys and family finance tips delivered straight to your inbox.
Thank you for signing up to GoodTo. You will receive a verification email shortly.
There was a problem. Please refresh the page and try again.
Russell Brand has surprised fans with his parenting confession.
Russell Brand has been criticised on social media after he made comments about parenting, which some fans consider to be 'sexist.'
In a recent interview with The Sunday Times, the actor and comedian opened up about the different roles that he and his wife, Laura Gallacher, play when it comes to looking after their two children.
And, what some people gathered from his comments is that she very much plays the leading role, and also maybe the supporting role... and the chorus, too?
The comedian even admitted that he has never looked after his two daughters, Mabel, 2, and Peggy, two months, on his own for 24 hours.
He said: 'No. She wouldn't go away for 24 hours, Laura. She respects and cares for their safety too much.'
He continued: 'Yes, I'm very, very focused on the mystical connotations of Mabel's beauty and grace. Not so good on the nappies and making sure they eat food.'
Brand also described Laura as an expert when it comes to 'domesticity', and revealed the truth behind instances when he has been left to keep an eye on his daughters alone:
'When I looked after Mabel on her own, she dropped two social classes in an hour. In no time at all we're in a coffee shop, she's just got a nappy on and she's covered in stuff because I'm not willing to fight any of the battles.'
'Laura's able to sustain and maintain domesticity in a way that's astonishing. I didn't have much experience of how to organise domesticity. I do whatever I'm told.'
The comedian also admitted how overwhelming he can find parenting:
'Laura does all of it. It turns out that she is extremely well versed in the nuances and complexities of child-rearing. Me, I am dedicated to it, devoted to it, but I am still surprised when it's like 'Oh my God this is f***ing really hard and it's so exhausting.'
His comments inevitably caused quite the stir on social media, with some people taking to Twitter to vent about the comedian's parenting views.
Journalist Hadley Freeman wrote: 'Russell Brand pitching himself as some New Age, all new, mature and sensitive dad - and then saying he's too sensitive to do any actual parenting is the most Russell Brand thing I've ever read in my life.'
Another user commented:
'Yep, his partner just magically knows how to do it because of some innate feminine mystique that makes her know how to remember a baby needs nappy changes & not because she's had to learn to do everything alone because he's a useless lump who thinks he's above mere mortal stuff.'
There was also a bit of this going on too:
'Patriarchy really does evolve and shift, doesn't it? We've gone from "I'm too macho to change nappies" to "I'm too sensitive to change nappies". In each case, the dude manages to frame the shunting of the work onto his partner as a weird self-compliment.'
Not everybody, however, agreed that Brand's comments were sexist, with a few people jumping to the comedian's defence.
One user wrote: 'I am so sick of people giving @rustyrockets a hard time. He's achieved real, tangible change in his lifetime & is still evolving. He proves it's possible & I think that scares people who would rather remain stuck in negative cycles than put in the work.'
What do you make of the comments? Head over to our Facebook page to let us know your thoughts!
Parenting advice, hot topics, best buys and family finance tips delivered straight to your inbox.
Freelance Lifestyle Writer
Niamh McCollum is a freelance lifestyle writer who has written for Future titles GoodTo and Marie Claire UK, plus the Irish Independent. The Dublin-based journalist specialises in stories
affecting families - from health updates, to the freshest parenting debates and celebrity announcements.