School girl on her period bled through her clothes twice as teachers ignored her bathroom requests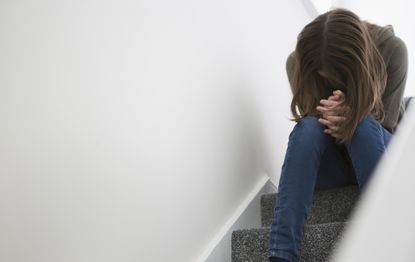 A young girl was left 'humiliated' after teachers at a Bristol school refused to let her go to the bathroom while she was on her period, on two separate occasions.
A school girl was left with no option but to bleed through her own clothes when she was told by teachers she wasn't allowed to go to the bathroom while she was on on her period.
The incident occurred twice, after teachers refused her bathroom request on two separate occasions.
The young girl, who is just 11 years old, was humiliated after going home with bloodstains on her clothes. She was left feeling like she didn't want to return to the school in Bristol.
The first time was on a non-uniform day in September, when the girl was denied permission to leave a lesson. She was wearing light-coloured jeans.
On that particular occasion, the first year student was able to cover the blood stains because she happened to be wearing a long jumper.
The pupil and her mother were reassured by Cotham School that such a thing would not happen again. The very same thing did, however, occur again - just a month later.
Puberty in girls and boys: How to help your kids deal with puberty (opens in new tab)
In October, a male teacher wouldn't let the girl leave her class, telling her that if she continued to ask to use the toilet she would receive a disciplinary strike against her name.
Her mother spoke to Metro about the second incident, stating: 'She asked multiple times but he wouldn't let her out and so she just had to sit there and bleed through her clothing – again.'
'They should not be making young girls feel guilty because she needs to go to the bathroom and sort out her basic care.'
She continued: 'Now, she's scared to go to school in case they won't let her out of the classroom, that's not what we should be teaching girls.'
A spokesman for Cotham School has addressed the incidents, stating: 'We aim to support all our girls during their period.'
With regard to this particular incident we have been in full communication on several occasions with the mother and the young girl and have issued a toilet pass, as per our school policy, so that this will not happen again.'
'The toilet pass can be shown discretely to the teacher so that there is no explanation required.'
'The welfare and well-being of our students is always at the forefront of what we do and we will always endeavour to work with parents and carers to support the needs of their child or children.'
Freelance Lifestyle Writer
Niamh McCollum is a freelance lifestyle writer who has written for Future titles GoodTo and Marie Claire UK, plus the Irish Independent. The Dublin-based journalist specialises in stories
affecting families - from health updates, to the freshest parenting debates and celebrity announcements.