School slammed for inappropriate awards, including 'best looking' children
It was branded 'shocking'...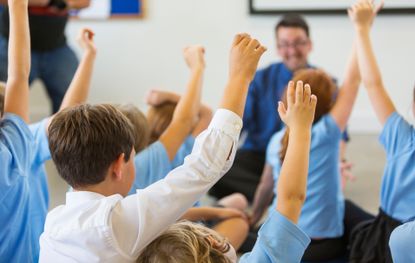 (Image credit: David Freund)
GoodTo newsletter
Sign up to the GoodTo Newsletter. You can unsubscribe at any time. For more information about how to do this, and how we hold your data, please see our privacy policy
Thank you for signing up to . You will receive a verification email shortly.
There was a problem. Please refresh the page and try again.
A school in Kent has come under fire for giving out a chart encouraging students to vote for 'inappropriate' categories such as 'best looking' male and female and 'most irritating habit'.
The school form was shared on Twitter, with a student's aunt calling it 'shocking'.
The caption read 'My Nephews school just sent them home with this - school is hard enough when you are 14 to create awards over best looking boy and girl. Shocking. @HughChristieSch why would you let this happen? Parents are appalled by this.'
Read more: School breaks are too short and could 'harm' students according to new study (opens in new tab)
Twitter users were quick to share their outrage, criticising the form for its negativity and how it could encourage bullying amongst students.
One user wrote 'Why not have things like: kindest pupil, most enthusiastic, most sporty, best jokes, tries the best, most helpful, most friendly, most likely to invent something/ be a millionaire/change the world/be PM.... you know...qualities we want to encourage.....'
Another agreed 'This is school sanctioned bullying. Horrendous when we have a huge crisis in teen mental health. It's perfectly possible to do this without shaming and judgemental categories'
Hugh Christie School in Tonbridge responded to the complaint, reassuring Lucy that the member of staff was 'spoken to' and that it was 'inappropriate'. Students were also told to disregard the form and
Read more: Infant school employs a nappy changer because so many pupils are not toilet-trained
Their response read 'We will inform students to disregard the form. The member of staff responsible has been spoken to. We totally agree this was inappropriate and apologise unreservedly for any offence caused to our students and parents.'
Executive Head of the school, John Barker, elaborated on this saying 'I wish to apologise unreservedly for the awards nomination form circulated to students and seen by parents that has caused offence.
'We will apologise to all students who received a form today and explain why we believe it was inappropriate to use. We have also emailed parents to apologise.'