'Secret Life Of 5 Year Olds' viewers left in tears by little boy discussing his dad's death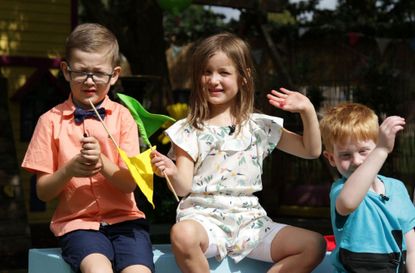 Viewers of 'Secret Life Of 5 Year Olds' were left in tears by Samuel, a little boy who discussed his dad's death on the show.
Watching children interact will always make you teary for some reason, but last night's episode of 'Secret Life Of 5 Year Olds' was even more emotional than we expected - all thanks to Samuel.
It all started when the teacher asks Sam who his hero is, to which he replied saying it's his dad because he gives him chocolate when his mum says no and picks him up when his feet are tired.
She then asked where his dad is, and that's when Sam revealed his dad has sadly passed away.
He said: 'My dad, he isn't at my house, he isn't anywhere, but he is one place... In the sky.
'He's not on an airplane, he's not on holiday, and he's not here...'
He added: 'When he died, he wasn't at home, he was in hospital.'
When one of his peers asked if he got to see him in hospital, he replied: 'I didn't get to see him when he died, except for when he was in a big box, it wasn't see-through, it was just a big box.
'One time I'm going to go to a big wishing well and wish that he's still alive.'
And the emotional times didn't stop there, as during the same episode, Sam also called his dad in heaven using a toy phone.
He started the conversation: 'Hi dad, how you doing?'; and later said: 'Better leave now, bye. Love you, see you later.'
Viewers at home couldn't contain the tears after watching the heart wrenching scene. One said: 'My heart breaks for little Samuel, must be so so difficult to understand losing a parent so young, bless his soul.'
Another wrote: 'Watching secret life of a five year old & crying my eyes out at Samuel talking about his daddy being in heaven.'
A third said: ''What an incredible little boy Samuel is. I've never heard someone so young talk so confidently about the death of a parent. Such a credit to his mom, amazing!'
Viewers left in tears because of THIS heartbreaking Old People's Home for Four Year Olds moment
This is not the first time a similar has pulled on viewers heart strings. Just a few months ago, four-year-old Scarlett had people at home crying when she revealed her mum had passed away on Old People's Home for Four Year Olds.
When asked to write a party invitation 'to her Mummy and Daddy', she replied: 'No, my mum's died, so Gran-Gran and Daddy.'