Stepdad's post about toddler's request to bathe with him sparks debate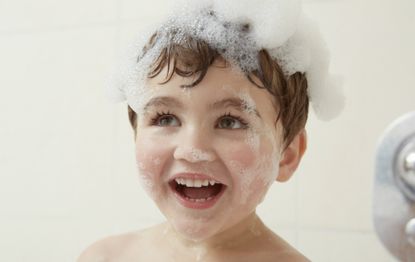 (Image credit: Emma Kim/Getty Images)
GoodTo newsletter
Sign up to the GoodTo Newsletter. You can unsubscribe at any time. For more information about how to do this, and how we hold your data, please see our privacy policy
Thank you for signing up to . You will receive a verification email shortly.
There was a problem. Please refresh the page and try again.
Most stepparents hope to build a close bond with their stepchildren.
So, when one stepdad got a innocent request from his three-year-old stepson he was torn between making his little one happy and ensuring that he was staying within appropriate stepparent/stepchild boundaries.
Posting his dilemma on Reddit (opens in new tab) the unnamed man posed the question: 'Is it OK for a step dad to have a bath with a 3 year old step son'.
Continuing to detail the quandary he had found himself in he wrote:
'
I've been with my partner for 2 years and she has a son who's 3 now. His biological dad doesn't bother with him and me and my step son have a good relationship. I usually shower but had a bath today and my step son come in and wanted to get in the bath with me and I said no and his mum come up and took him downstairs and he was confused because he gets in mummys bath. My partner doesn't have an issue and I'm not really bothered as he will just sit one end and play with his toys but I'm worried about if he says something at nursery and they take it the wrong way.
'I was wondering how other people have handled this situation and what people feel about it.'
The post clearly struck a chord with Reddit users, with many reassuring the stepdad that saying yes in this scenario would have been completely OK.
One wrote: 'Don't see why a step dad shouldn't be able to do something a bio dad would. Sounds like nice bonding time.'
Another added: 'It comes down to if you and his mom feel comfortable with it. Ultimately you are the only ones that matter.
'I bathed with my son at that age. There's nothing wrong with it.'
A third chimed in with: 'My husband bathes with my 2 and 4 year olds. If you and the mother are comfortable with it, why not? You being the stepfather doesn't matter if you are a parental figure in his life.'
However, there were some who still had reservations, without going as far as saying an outright no.
One wrote: 'For me personally, I feel like 3 is a little on the old side to be bathing with a parent...HOWEVER, I know that it's a common thing to be doing at that age still.
'My thoughts are that if you and Mom are comfortable/fine with it, then it's ok to do.'
Another added: 'I think this is one of those subjects in which the right answer is individual to every family.'
What do you think about the above situation? Join the conversation on our Facebook page.
Freelance Lifestyle Writer
Miriam Habtesellasie is a freelance lifestyle writer who has contributed content to GoodTo, Woman&Home, Women and Idealhome.co.uk. Miriam is based in London and is a fan of everything interiors, she admits to being spoilt for choice living in the capital. From stunning architecture right the way through to eye-catching department store window displays, she believes there's always an angle to be found that can translate to our abodes.