Bonjela and other baby teething gels to be removed from supermarket shelves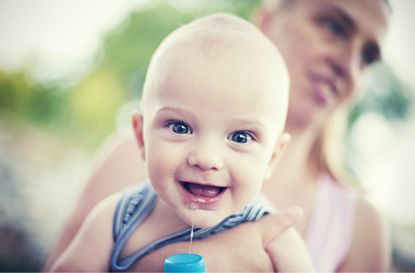 (Image credit: Vladimir Popovic)
Baby teething gels that contain anaesthetic will only be sold in pharmacies from 2019.
Teething gel products, including Bonjela and Calgel teething gels, are can be found in many supermarkets, corner shops and garages.
However, a review by the Medicines and Healthcare products Regulatory Agency (MHRA), has found that they could have harmful effects. The MHRA has now ruled that all teething gels for babies that contain lidocaine - a mild local anaesthetic - will only be available in chemists from 1st January 2019.
The review by the MHRA was brought on by a warning issued by the US Food and Drug Administration, which found that the solution lidocaine, used as reliever on babies' gums, could cause seizures and in extreme cases death.
The MHRA stated, however, that the UK teething products are much weaker than those in the US, therefore carrying a very small risk of side effects.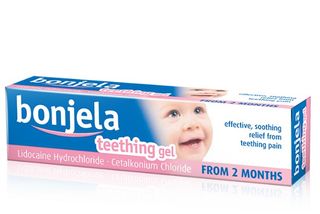 In the review, it was found that only 447 incidents of lidocaine poisoning to children had been reported to the UK National Poisons Information Service over three years, 437 of which had caused 'minor' or 'no harm.'
The report also highlighted that there was an overall 'lack of benefit' from the teething gel products: 'Although many of these products have been licensed and marketed for a long time, high-quality clinical data supporting their efficacy in teething are not available.'
The MHRA stated that these teething gel products should only be used by parents as a last resort after all other non-drug methods had been exhausted.
Ash Soni, president of the Royal Pharmaceutical Society, has advised parents that if their baby is experiencing discomfort when teething, they should first try to 'give a teething baby something to chew on like a teething ring that's been in the fridge'.
Dr Cheryll Adams, executive director of the Institute of Health Visiting, also suggested that massaging 'the baby's gums with a clean finger' could also be a way to relieve a distressed baby of their teething pain.
Ash Soni added that, if these non-medicinal methods are not enough, then you should go to your pharmacist to get 'expert advice about using a teething product containing lidocaine and how to use it safely.'
Parenting advice, hot topics, best buys and family finance tips delivered straight to your inbox.
Freelance Lifestyle Writer
Niamh McCollum is a freelance lifestyle writer who has written for Future titles GoodTo and Marie Claire UK, plus the Irish Independent. The Dublin-based journalist specialises in stories
affecting families - from health updates, to the freshest parenting debates and celebrity announcements.