Toddler electrocuted after putting mobile phone charger in her mouth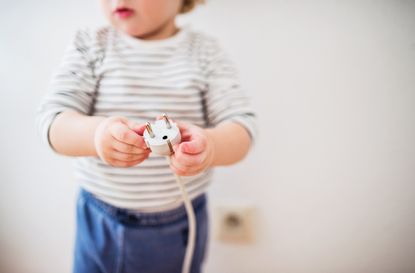 (Image credit: Getty)
GoodTo newsletter
Sign up to the GoodTo Newsletter. You can unsubscribe at any time. For more information about how to do this, and how we hold your data, please see our privacy policy
Thank you for signing up to . You will receive a verification email shortly.
There was a problem. Please refresh the page and try again.
A toddler has been electrocuted after putting a mobile phone charger in her mouth.
The two-year-old girl, from a village in India, died after being electrocuted by the phone charger that she put in her mouth.
Toddler Shehvar, who is from a village near the country's capital New Delhi, was visiting her grandmother's house on the weekend with her mother Razia.
The fatal incident took place in Shehvar's grandmother's house when another member of the family had removed their phone from the phone charger, however they had made the mistake of leaving the charger plugged into the wall and had not turned off the switch.
Two-year-old Shehvar managed to get hold of the unattended charger and put it in her mouth, which led to electrocution.
'The family has not approached us with any police complaint, so a case has not been filed,' Akhilesh Pradhan, station chief at Jahangirabad (where Shehvar's grandmother lived) police station told The Times of India.
'However, if somebody approaches us for a complaint, it will be done according to the norms,' he added.
This is not the first time that a case like this has been reported.
Back in 2017, a worried mother took to Facebook to share the story that led to her daughter suffering from an electrical burn on her face.
Courtney Davis, from Kentucky in the US, issued a warning to parents about the dangers of unattended phone chargers when her 19-month-old daughter suffered from severe burns after putting a charger in her mouth.
Courtney, who was distracted on a busy day had forgotten to unplug her phone charger, said that 'It took all of a few seconds for her to get burned'.
The toddler went on to have five laser procedures and surgery to remove her scar on the side of her mouth.
'I wasn't going to post about this until I posted in a mom group and found out many parents don't think twice about the danger of a phone charger around children,' added Courtney.