Lucy Letby: The trial of the neonatal nurse explained
The neonatal nurse has been accused of murdering seven babies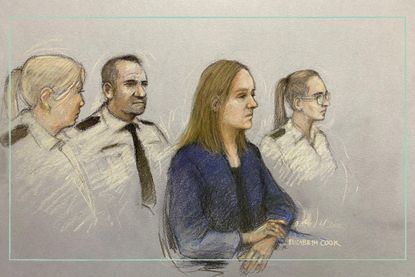 (Image credit: Alamy)
The trial of Lucy Letby began on 10 October 2022, and the widespread coverage of the allegations against the neonatal nurse has many asking who is Lucy Letby?
Lucy Letby, 32, who first appeared in court bac in October, is accused of murdering seven babies during her time working as a neonatal nurse at the Countess of Chester hospital - charges which she denies.
Now the trial is underway at Manchester Crown Court, high profile coverage from the media has meant the details of Letby's 22 charges have become widespread knowledge. And the proceedings have left many asking who is Lucy Letby, what is she alleged to have done and where is she now?
Who is Lucy Letby and what is she accused of?
Lucy Letby was a children's neonatal nurse at the Countess of Chester Hospital, in Cheshire, and is accused of murdering seven babies - five boys and two girls - and attempting to murder ten more between mid 2015 and mid 2016.
In some instances, Letby is accused of attempting to murder the same infant multiple times, and she faces a total of 22 charges concerning the 17 babies - she has pled not guilty to each count.
I'm at Manchester Crown Court again today covering the murder trial of nurse Lucy Letby. We're expecting to hear from medical experts this morning in relation to Child F, who the Crown say was poisoned with insulin by Ms Letby in August 2015November 30, 2022
See more
Nick Johnson KC opened the prosecution on the morning of Monday 10 October, saying: "Prior to January 2015, the statistics for the mortality of babies in the neo-natal unit at the Countess of Chester were comparable to other like units. However, over the next 18 months or so, there was a significant rise in the number of babies who were dying and in the number of serious catastrophic collapses.
"Having searched for a cause, which they were unable to find, the consultants noticed that the inexplicable collapses and deaths did have one common denominator - the presence of one of the neonatal nurses, and that nurse was Lucy Letby."
Mr Johnson also told the court that as medics could not account for the collapses and deaths, police were called in and conducted a "painstaking review", which suggested that somebody in the neonatal unit poisoned two children with insulin.
However, the defence barrister Ben Myers KC told the jury that problems with the way the Countess of Chester Hospital neonatal unit was run at that time were a factor leading to the death of the babies.
As well as suggesting the unit was overstretched and understaffed, he added that while the prosecution referred to how babies improved rapidly when moved to a different unit "away from Lucy Letby", the improvements could instead be a result of the babies being "moved away from the Countess of Chester Hospital".
Mr Myers said of Lucy Letby: "She was a young woman with no immediate family commitments and someone who built her life around her work in a neonatal unit.
"Someone in that position is more than likely to be looking after the more clinically challenged babies and more likely to be there when deterioration happened, but it doesn't mean she made it happen."
Where is Lucy Letby now?
Lucy Letby is currently on trial at Manchester Crown Court. The trial commenced on Monday 10 October, and the jury has been told that it may last up to six months.
In 2020, Letby appeared at Warrington Magistrates' Court on November 12, to face all charges which relate to the year from June 2015 to June 2016. In May 2021, the date was set for her trial, at a case management hearing at Liverpool Crown Court.
During the trial, the court heard that Letby had written notes reading "I am evil" and "I killed them on purpose because I'm not good enough", and that these were found during a search of her home.
The notes also contained protestations of innocence, such as, "I haven't done anything wrong and they have no evidence so why have I had to hide away?"
Ben Myers KC said when outlining Letby's defence, "anyone with an ounce of human understanding" would see the notes as "the anguished outpouring of a young woman in fear and despair when she realises the enormity of what is being said about her".
The court has also been shown messages that Lucy Letby sent to colleagues after allegedly murdering a baby. She wrote: "I was struggling to accept what happened to (Child A). Now we've lost (Child C) overnight and it's all a bit much," going on to add, "It's not about me or anyone else, it's those poor parents who have to walk away without their baby. It's so unbelievably sad."
Lucy Letby: The trial so far
The prosecution opened the case with Nick Johnson KC describing Letby as "a poisoner" and citing the significant rise in infant mortality rates, saying "sometimes babies who had been sick and then on the mend deteriorated for no apparent reason."
The court was told that when Lucy Letby worked on the night shift, there was a rise in deaths and collapses, and when she was moved to the day shift the unusual deaths and collapses rose then instead.
The prosecution said two babies - Child F and Child L - were "poisoned" by Letby "deliberately with insulin", and describes Letby as a "constant malevolent presence".
The court heard that Children E and M were then harmed - and in the case of Child E killed - after air was injected into their bloodstream.
The court heard how a chart which outlines the presence of staff at the times the 17 babies affected were attacked showed that Letby was on shift when all the babies were allegedly harmed.
The court heard that Child A was pronounced dead within 90 minutes of Letby coming onto shift, with one medical expert concluding his collapse was "consistent" with a "deliberate injection".
Mr Johnson told the court: "As soon as children were removed from the Countess of Chester Hospital, and the sphere of Lucy Letby, they often suddenly and remarkably recovered."
The court heard that Letby allegedly tried to kill Child I four times 'before succeeding'.
The prosecution alleged Letby murdered two out of three triplets - these are Children O and P.
The court is shown a series of notes - and Post-it notes - that were found during a search of Letby's home, allegedly written by her. One said: "I don't deserve to live. I killed them on purpose because I'm not good enough to care for them."
The defence opened with Ben Myers KC saying, 'all we have so far is a theory of guilt based firmly on coincidence'. He added that he will touch on "failings at the Countess of Chester Hospital neonatal unit that have nothing to do with Lucy Letby".
Mr Myers said the notes found in Letby's home don't "accurately reflect" what has happened, but was written by Letby while upset, who "poured her feelings onto paper as a way of coping".
The defence said there were other events and "collapses" which took place when Lucy Letby was not present.
The defence says "sub-optimal care" was at the Countess of Chester Hospital's neonatal unit was a factor which led to many of the baby collapses,
The trial heard messages from coversations between Letby and her colleagues, in which she described the deaths of the babies she is alleged to have murdered as "heart breaking" and "so unbelievably sad".
Video of the Week