Experts warn parents about new app that's gone viral among children in the UK over the past week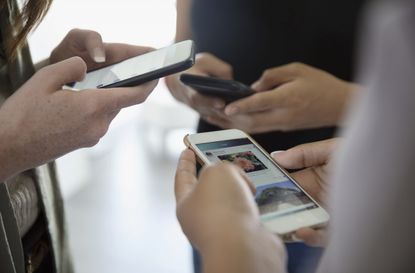 GoodTo newsletter
Sign up to the GoodTo Newsletter. You can unsubscribe at any time. For more information about how to do this, and how we hold your data, please see our privacy policy
Thank you for signing up to . You will receive a verification email shortly.
There was a problem. Please refresh the page and try again.
Yolo, a new Snapchat app that allows users to ask questions to other users anonymously, is worrying experts because of abuse concerns.
The app has recently gone viral, becoming the most-downloaded iPhone app in the UK and US just a week after it was released.
Here's what you need to know...
How does Yolo work?
Similarly to the question feature on Instagram Stories, Yolo allows Snapchat users to post a graphic inviting others to 'send me anonymous messages', which appears on screen superimposed over a photo.
Users can allow this to be sent to just their Snapchat contacts or allow it to be shared on a Snapchat Story, which will have a wider reach.
If users want to send a question, they can do so via Yolo – however, unlike questions asked on Instagram, this feature is anonymous.
The poster then decides if they want to reply, and if yes they do so on Snapchat.
Why are experts worried?
Due to its success, experts are now worried that the anonymity give to users could cause a rise in online abuse.
Andy Burrows from National Society for the Prevention of Cruelty to Children (NSPCC) told the BBS: 'Apps such as Yolo that allow anonymous comments could be easily misused to send abusive or upsetting messages.
'Snapchat should justify how this app meets their duty of care to children.'
In the US, child safety campaign group Protect Young Eyes also criticised the app for having a low age rating: 'Anonymity... has always created a breeding ground for hate and very poor teen decision-making. The rating is too low at 12+.'
So how has Yolo become so successful so quickly?
The success of the new app has puzzled even its founders, who told Techcrunch that the team had not expected it to be this popular.
Gregoire Henrion said: 'It was not supposed to be a success. It was just for us to learn told the news site.
'It went 100% viral. We just literally put it in the store, people typed Yolo into search, and the loop was so effective that the product caught on.'
Are your kids using Yolo? Had you heard of it before? Head over to our Facebook page and let us know!