Giovanna Fletcher breaks down as she shares her experience of being bullied as a child
And her hopes for her young son ahead of his first year at school next year...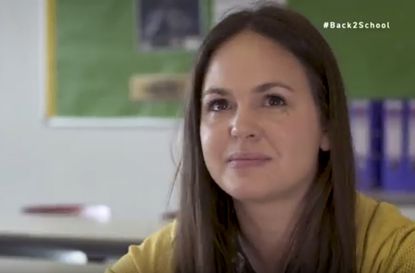 GoodTo newsletter
Sign up to the GoodTo Newsletter. You can unsubscribe at any time. For more information about how to do this, and how we hold your data, please see our privacy policy
Thank you for signing up to . You will receive a verification email shortly.
There was a problem. Please refresh the page and try again.
In a week where 10 million children will go back to school, anti-bullying campaign AntiBullyingPro have revealed that over half of them will be affected by bullying.
As one of the ambassadors for their campaign, which seeks to train an anti-bullying ambassador in every school, bestselling author, presenter and actress Giovanna Fletcher has opened up about her experiences of being bullied as a child.
In an emotional and difficult interview with AntiBullyingPro, Giovanna, who is married to former McFly frontman Tom Fletcher, admits that school for her, 'was just not a very nice time&' despite the fact that she was 'a very sociable child.'
The mum-of-two revealed that what started as insults about her family and her weight, turned into physical violence from her classmates.
'It escalated to the point where I would get pushed… one of them purposefully pushed me into a brick wall,' she admitted.
As with many people who have been through bullying, the experiences of Giovanna's childhood still stay with her today. Visibly upset by recounting the more difficult events of her school life Giovanna confessed: 'It does still affect me, massively.'
However, despite her experiences, the successful blogger and vlogger revealed that she holds no resentment for the children that made her life at school so tough.
'As an adult I look back at the people who bullied me and I think "it's not their fault either", they were young, same age, and we're all learning,' she said.
When asked by the team what her experiences at school made her think as a mother to her two boys, Giovanna broke down.
Breaking down into tears in front of the camera, Giovanni emotionally added: 'Thinking of him having to go through anything like that is just heartbreaking.'
Thinking about her sons Buzz and Buddy, the mum tearfully confessed that it was difficult for her to imagine them going through what she did.
Wiping tears from her eyes she said: 'You want them to be happy being whoever they are.'
Speaking about her son Buzz, who starts school next year she said: 'Hopefully his school experience will be a lot happier than my was.'