Greg Rutherford and partner Susie rush baby son Rex to hospital with mystery illness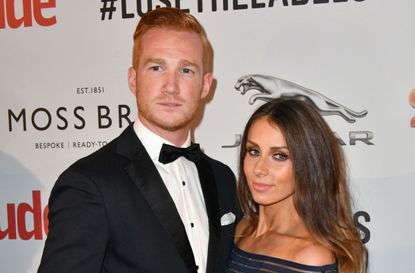 GoodTo newsletter
Sign up to the GoodTo Newsletter. You can unsubscribe at any time. For more information about how to do this, and how we hold your data, please see our privacy policy
Thank you for signing up to . You will receive a verification email shortly.
There was a problem. Please refresh the page and try again.
Olympian Greg Rutherford and his partner Susie have had to rush their baby son Rex to hospital as he was suffering from a mystery illness.
The mum-of-two shared the scary ordeal on social media, first by posting a picture of her baby son Rex looking a bit under the weather.
She wrote alongside the snap: 'Thank you all SO much to everyone who messaged with support & advice when I mentioned Rex's post-jab sitch (and only ONE anti-vacc message which I consider a real achievement!).
'I rang the doctors for advice yesterday (after another round of vomming) and was told to bring him in. Turns out it probably is indeed a bad reaction to the Men B vaccination, combined with the joy of teething. He's had a slightly better day, but is NOW battling constipation. Being a baby, not easy is it?'
Susie later kept fans updated and revealed that she had to take her son to hospital, as he wasn't feeling any better. While doctors originally thought he could be having a problem with bowels, they then said it could be a virus.
Common childhood illnesses: everything you need to know
She wrote on Instagram stories: 'We got blue-lighted to a 2nd hospital earlier - they thought Rex might have a weird (but kind of common) bowel thing going on & needed another hospital to do scans.'
Later, she added: 'Good news - it wasn't the bowel thingy. Bad news - they don't know what it is but think it might be a bad virus. Hoped he was coming out the end of it but he just woke me up vomiting everywhere again so now we're waiting for the cleaners.
'He won't sleep in the cot so he's on the hospital sofa bed with me.'
Thankfully doctors were able to figure out what was wrong with Rex, and the mum was able to take her son home.
Susie added: 'We are being allowed to go home today, we think it's just a virus but he's also anaemic. It's not the cause for the vomiting but it's not going to be making him feel very good.
'Hopefully we can get a bit more food on board.'
The baby boy seems to be recovering, and has even been riding his scooter. Alongside a picture of her son, the mum wrote: 'When your wristbands say hospital, but your attitude says IDGAF. Please, please let him keep his milk down tonight 💙'.