We earn a commission for products purchased through some links in this article.
Lots of girls dream of having big families when they're young. You picture big Christmas dinners, holidays where you need to rent more than one car, basking in front of the fire covered in grandchildren… and then you give birth to your first baby, and really just how hard it is with just ONE.
However, whether you grew up and became mummy to one, two, or even four or five little bundles of joy, do you ever wonder how many you could actually handle if it came down to it? Because there's a new quiz doing the rounds that can help you find out – and the results might just surprise you!
The simple 9-question test quizzes you on a number of different factors, from your family history…
…to your career…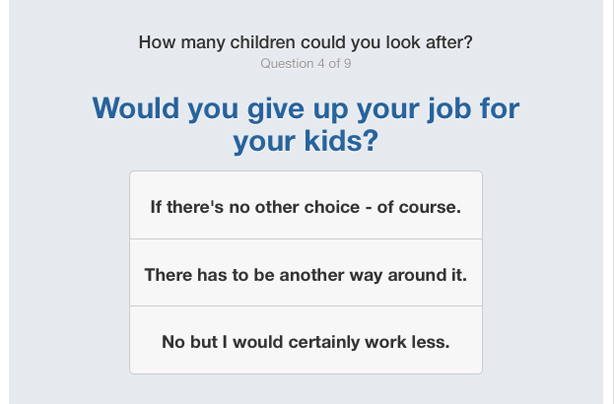 …and even your personality…
…although why there's no 'when a tiny monster is screaming in my ear I become all of the above simulataneously' option, we'll never know.
Once you've completed all 9 questions, your result will pop up on screen – and in most cases we've seen, it'll be far higher than the number of your actual brood. We've seen numbers in the double digits (yes, really!) and although obviously the quiz is just a big of fun and not a scientific qualifier of your parenting abilities, it has made us think about how many sproglets we could wrangle if we needed to. We always thought our maximum would be one in each hand! Perhaps, if nothing else, we'll become far more efficient babysitters?
BUT. If you've got your result through and you're thinking 'how on earth could someone look after THAT MANY?', spare a thought for GoodtoKnow's poor editor Holly: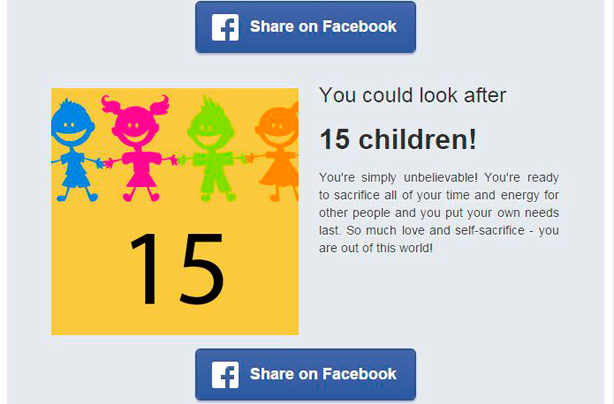 Erm… rather her than us!
How many kids could YOU look after? Leave us a comment and let us know your result!