Husband has best response for trolls who say his wife should hide her stretch marks
The post has over 1,000 likes.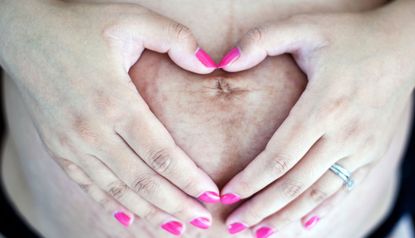 GoodTo newsletter
Sign up to the GoodTo Newsletter. You can unsubscribe at any time. For more information about how to do this, and how we hold your data, please see our privacy policy
Thank you for signing up to . You will receive a verification email shortly.
There was a problem. Please refresh the page and try again.
Mum-of-six Sharny Kieser was targeted by trolls who made nasty comments about her stretch marks after her husband Julius shared a picture of her on Instagram - but he had the best response.
When you've carried a baby or two your body changes drastically and Sharny Kieser knows this first hand.
Luckily when vicious trolls suggested she should hide her stretch marks, her husband Julius was on hand to shut them down in the best way possible.
Taking to Instagram Julius wrote: 'Last week, I posted a photo of Sharny with her tummy out and a young girl said "at least photoshop the disgusting stretch marks out." Here's a new photo, where I've adjusted the light so you can see ONLY stretch marks.'
He continued: 'Enjoy, because I do. I think they're beautiful. I think they symbolise the strength of a mother who brought 6 children into the world. Not just this mother, but EVERY mother. I believe that a body of a confident WOMAN (like this) is far more beautiful and sexy than the body of an insecure GIRL (what you normally see on social media). That's not saying instagirls are ugly, they just lack life experience, they're shallow.'
'Not shallow like we normally say, but shallow in life, not yet interesting. But they will be, that's a given. And I hope that when they DO earn their depth of character and maybe scars/stretch marks, they KNOW that they are not ugly or used, but beautiful and important and courageous. They are mums.'
The post has received lots of love on Instagram with hundreds of people praising Julius for defending his wife and encouraging women to embrace their bodies post-birth.
One person said: 'I love what both you and Sharny stand for! Its refreshing to hear a man speak openly about the beauty of a woman's body that is not "perfect". I applaud both of you 👏👏👏👏👏👏👏👏👏👏💕💕💕💕💕💕💕💕💕💕💕💕💕💕💕💕'.
Another wrote: 'You are awesome thanks for writing this'.
A third added: 'I just can't LOVE this pic enough so beautiful❤'.