Husband surprises wife by telling HER that she's pregnant
Confused? You're not the only one...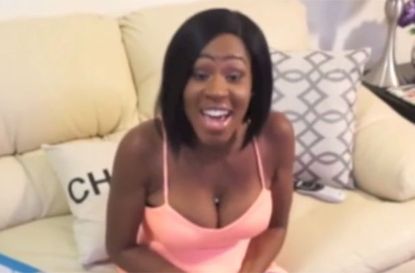 A couple's pregnancy announcement video has gone viral after a role reversal which saw the husband tell his wife that she was pregnant.
Opening the film with the camera on himself, the unnamed man explains, 'We've been trying for a baby for a while now, and she's a week late, and I personally think she's pregnant.'
He adds that his wife, Kiki, is downstairs with their son Issac, but recently used the bathroom and forgot to flush the toilet.
'Here's my opportunity for the taking,' he says. 'I'm gonna go get her stash of pregnancy tests, and I grabbed one of those bad boys, and now I'm in here, ready to take the sample and see if she's pregnant or not. She probably is, I think she is, so we'll see how it goes.'
He films himself taking the 'sample' from the toilet and putting it onto the pregnancy test, but we don't see the result until he confronts Kiki.
'I've got a surprise,' he tells her. 'We can't go eat sushi'.
'Why not? I'm already dressed!' she replies.
'You actually can't eat sushi for the next nine months,' he says, to which she responds 'I don't know what you're talking about'.
After Kiki demands to know why she's being recorded, he hands her the test.
'Where did you get this from? And why is it positive?!' she exclaims.
It takes a while for her to believe him, but once she realises he's telling the truth, Kiki is super excited about the new arrival.
'Isaac, you're going to be a big brother!' the couple tell their son, showing him the test.
'We have been trying to get pregnant for about a year and a half. Every pregnancy test we took was negative after negative after negative,' he explained after the video went viral.
'The end of August my wife took 2 tests which were both faulty, since we had yet to get our negative for that month we decided to wait another week.'
'I really wanted to surprise my wife, I honestly didn't really know what I was doing, or if it would be positive but I figured it would be worth a try.'
'I have heard stories about men who use their wives pee samples from the toilet when they forget to flush. So when I saw she forgot to flush I knew that was my opportunity to possibly surprise her.'
'She was dressed and ready to go on a dinner date for sushi so it was perfect day to find out if she was pregnant, as pregnant women are not suppose to eat raw food.'
'Thankfully it all worked out, she is pregnant, and I was able to surprise her instead of her surprising me.'