Hypnotist mum causes a stir on This Morning after revealing she uses mind control on her kids
Lisa told hosts Eamonn and Ruth that her kids have been hypnotised all their lives, and can even use their mum's skills for themselves!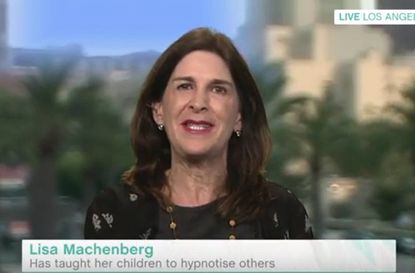 Lisa Machenburg, 56, is a Californian mum of three who has been hypnotising her teenagers since they were as young as 11 months old, getting them to do their chores and homework as well as a long list of other tasks using the technique.
Appearing on This Morning to chat to Eamonn and Ruth, she taught them how to hypnotise their own kids and defended her lifestyle choice. Her interview has since sparked controversy amongst parents, with many doubting the ethics of her 'mind control' tactics.
After experiencing fertility problems, Lisa claims she hypnotised herself in order to successfully have children. She believes that hypnosis helped her conceive as well as bear all the pain that comes with childbirth, saying 'I used hypnosis for the mind-body connection to help me conceive and carry my children.
'I had a very, very hard time having children. I used hypnosis in conjunction with western medicine and conceived twin boys. Then I used hypnosis so I could be very, very comfortable when I went into labour and then I used hypnosis to help the children sleep quickly, calmly, soundly and deeply all through the night.'
Since then, she's been working her 'magic' on them to sleep through the night when they were babies, potty train successfully, and do well in exams. They now help carry on their mother's legacy and have learned some of her skills themselves - her 17-year-old daughter admits she hypnotised one of her teachers into giving her a better grade.
'He gave me a very bad grade that would have brought my grade down to a B from an A, so I went to talk to him and when I did, I made sure my hand was close to his arm and I said "you will raise my grade".'
While Lisa often uses mind control on her kids and husband in order for them to do well in their own lives, she admits that she uses them for her own means 'all the time.'
'When mums are happy, everybody is happy. When the wife is happy, everyone is happy. We have a household to run and so many times I exert influence so that my children get their chores done so that the house runs efficiently.'
http://www.youtube.com/watch?v=U_xFRnQzB3M
Not everyone is happy with Lisa's way of parenting, though. Her son, Jake, says 'it could get a little crazy when she tries to kind of hypnotise us at every single possible situation that she can. It could get a little overbearing - she gets in your head.'
However, he also admits that his mum has helped him a lot through her unconventional actions.
'As far as things like getting into college, I think it was an advantage. It helped me to talk to teachers and get them to write really good levels of recommendation for me. I think it's helped me have control over my own mind.'
As well as having her own television programme, Hypnosis Today, Lisa teaches hypnotism classes to other parents to help them control their kids, charging them around £95 per class. She believes hypnotism is the best tool for parents in achieving a 'harmonious home.'
'If we learn hypno-parenting we learn how to hypnotise our children to be cooperative, peaceful, have containment and have good study habits because they have focus and have more resilience out there in the world.'
https://www.facebook.com/photo.php?fbid=776426492403309&set=pb.100001078970533.-2207520000.1469785156.&type=3&theater
Lisa also has some words for anyone who thinks her techniques are a bit dodgy.
'If someone says to me it is unethical to manipulate a child by using hypnosis to take control of the child's mind also, I'll ask "tell me what you mean by that".
'I'll ask, "when you parent your child tell me about what you do: is it effective, is it working, is it kind, are you a transitional hero raising your child in a way that you want your child to raise your grandchildren".
'If they say "well, wait a second sometimes yes sometimes no", I'll say "would you like to learn some techniques to exert influence so you will have more a cooperative, peaceful home?" We can use hypnosis to hypnotise our children to be the best that they can be, to be peaceful, cooperative.'
Trusted, informative, and empathetic – GoodTo is the ultimate online destination for mums. Established in 2007, our 15-year-strong archive of content includes more than 18,000 articles, 1,500 how-to videos, and 7,000 recipes.