Revealed: Over a half of British parents think smacking is an effective form of punishment
What do you think about the debate?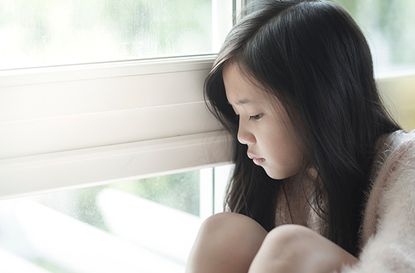 It's a topic that often comes up in the news: is it ok to ever smack your children? According to a recent survey over half of British parents believe smacking is an efficient form of discipline.
As part of wider research into British parenting, Voucher Codes Pro surveyed over two thousand parents who had children aged between two and 11 years old.
With 61% of the respondents saying they thought smacking worked for controlling children's behaviours, 65% of that group admitted that they haven't actually smacked their child. The parents were then asked why they hadn't hit their child, if they thought it worked, with the most common answer being 'I feel there are other equally effective or better methods available' and 'my partner does not agree with smacking'.
What's the law on smacking children?
Earlier this month a team of British children's commissioners argued that smacking children is not OK. At a United Nation's committee, according to a report in The Sunday Times, four chosen representativeness called for any smacking of a child to be made illegal.
The report was said to detail the need for stricter laws surrounding parents or carers physically punishing children. It read: 'The UK and devolved governments should ensure that children have equal protection from violence under the law.
'All corporal punishment in the family and in all other institutions and forms of alternative care should be prohibited, including through the repeal of legal defences.'
Before the meeting the children's commissioners were asked to prepare a plan for how Britain 'intends to fulfil its obligation to remove all legal defences for corporal punishment of children in the home and all other settings'.
Britain would be following the lead of countries like Germany, Spain, Sweden and Holland where smacking is illegal. Ministers in England have said they're worried the new laws would go towards 'criminalising' parents.
Education Secretary Nicky Morgan has previously spoken about the 'need' for smacking. In an interview with Sky News in 2014, she said: 'A sharp tap or sometimes there is a need for a mild smack that doesn't leave a mark.'
In the UK it is illegal for a parent or carer to smack a child under Section 58 of the Children Act 2004. It is unlawful for a parent or carer to smack their child, except in cases where the smack is considered 'reasonable punishment'. Any physical discipline that leaves a mark is considered 'unreasonable' and factors like age of the child and nature of the smack are all considered, too.
Is smacking children damaging?
The latest research on this controversial subject suggests that children who are smacked by their parents will suffer mental health issues in later life. The authors of the study also revealed that a child who is physically punished will usually have worse behaviour, the opposite of what most parents are trying to achieve, with anti-social behaviour problems developing further down the line.
The research analysed over 160,000 children across 50 years to draw its conclusions and defined smacking as an 'open-handed hit on the behind or extremities'. The study, which has been published in the Journal of Family Psychology was jointly undertaken by researchers at The University of Texas at Austin and the University of Michigan. The team looked at the long lasting impact of smacking a child, and how this affected their mental health, life skills and development in adulthood.
The negative repercussions on adults who had been smacked as children included increased aggression, more antisocial behaviour, more externalising of problems, as well as more internalising problems, more mental health problems, more negative relationships with parents, lower moral internalisation, lower cognitive ability and lower self-esteem.
Another link the researchers made was between the similarities found in children who were smacked and children who suffered physical abuse. In both cases the detrimental effects on health and well being were similarly detrimental.
Elizabeth Gershoff, one of the co-authors of the study, commented, 'We as a society think of spanking and physical abuse as distinct behaviours. Yet our research shows that spanking is linked with the same negative child outcomes as abuse, just to a slightly lesser degree.'
The researchers concluded: 'Spanking children to correct misbehaviour is a widespread practice, yet one shrouded in debate about its effectiveness and even its appropriateness. The meta-analyses presented here found no evidence that spanking is associated with improved child behaviour and rather found spanking to be associated with increased risk of 13 developmental outcomes.
'Parents who use spanking, practitioners who recommend it, and policymakers who allow it might reconsider doing so given that there is no evidence that spanking does any good for children and all evidence points to the risk of it doing harm.'
In previous research by UNICEF it has been found that 80% of children across the world are subjected to some form or physical discipline, which includes routine hitting or beating.
Would you smack your child?
One mum we spoke to, Ting Dalton, admitted that she has once 'spanked' her son. She said, ''I don't smack my son, but once when it was a particularly bad day I let me frustration get the better of me and I spanked his bottom. I felt so so terrible afterwards that I vowed never to do it again. There are so many other ways to remonstrate children without resorting to physical punishments. But I do understand how easy it is to lash out in the moment, especially if you're already tired, stressed and lacking in patience.'
[apester]5720c9f24091eea4323c09a1[/apester]