Two-year-old Jacob Jenkins dies after choking on grape during a family meal at Pizza Hut
Could you be missing this hidden danger?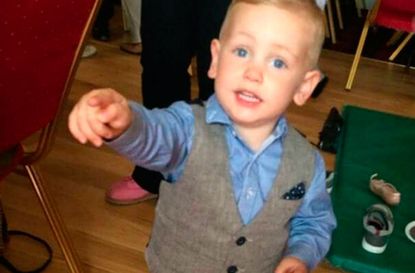 Jacob Jenkins, aged two, has died after choking on a grape whilst dining with his parents at Pizza Hut.
The toddler had been placed into an induced coma at Royal Victoria Infirmary, Newcastle, since Friday evening.
On Wednesday night his mother, Abigail Wilson, said; 'Jacob has gained his angel wings.'
'There was nothing else that could be done for Jacob and as hard as it was we chose that time because we knew we would be in thousands of people's minds at that exact moment.'
Before news of his death broke, crowds of supporters and well-wishers had already gathered in Hartlepool on Wednesday evening to release yellow balloons as a show of support for the family.
Abigail said; 'We are so grateful for the love you have shown our gorgeous Angel.'
Jacob's heart stopped at the restaurant whilst first aiders from Pizza Hut and nearby establishments rushed to help, eventually it was a team of paramedics who managed to temporarily stabilise him.
In a statement released from the hopsital at the weekend, Jacob's parents had said; 'On Thursday, Jacob will be given the biggest test he will ever get and that's to see if he can fight to wake up.'
'Anyone who knows Jacob knows he is a strong, determined, stubborn little boy and I hope he uses these qualities to pull through for us.'
A Go Fund Me page (opens in new tab) has been set up in the toddler's memory and has already raised £9,158 at the time of writing. The page, set up by family friend Ben Picken, reads: 'His parents now need time to grieve properly and come to terms with losing thier baby boy.
'It is now with a heavy heart I write that this fund will now go towards Jacob's funeral cost's and gives the parent's abit of space to not have to worry about going back to work for the forseeable future.'
https://www.facebook.com/photo.php?fbid=1012265958805175&set=a.154410801257366.28428.100000653424208&type=3&theater
Jacob Jenkins, who choked whilst eating a grape during a family meal out
In light of the story, a warning from the Jack in the Box childcare Facebook page (run by a registered childminder named Emma) telling parents to always cut grapes when serving them to children has gone viral, with almost 325,000 shares at the time of writing.
'I'm posting this to encourage everyone to always cut grapes in half (lengthways) before letting ur child eat them,' the post reads.
'It doesn't matter what age they are or how good at chewing they r, grapes are the perfect size to completely block a child's windpipe and once it's lodged there its almost impossible to get out and blocks their whole airway..... doing such a simple thing could potentially prevent such an awful situation.'
https://www.facebook.com/jackintheboxchildcare/photos/a.334759493349654.1073741828.334190003406603/558969794261955/?type=3&theater
Many commenters have responded to Emma, saying that they weren't aware of the dangers until hearing Jacob's story and seeing her message.
'My little boy loves grapes, and until Jacobs sad story came out i didn't realise the dangers of un-cut grapes (i really hate to admit that) but I'm guessing there may be others that dont realise either,' one parent wrote.
Another added 'My son died after choking on a grape 5 years ago. It left us devastated - so thank you to you and everyone else who continue to spread the word of how important it is to cut grapes in half.'