Janet Street-Porter defends argument to BAN children from cafés and restaurants
'Please, can parents realise that children don't rule the world.'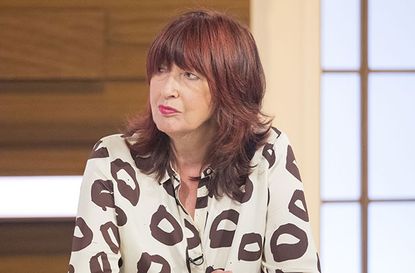 Loose Women's Janet Street-Porter has revealed she supports cafés and restaurants wanting to ban children.
Writing for Mail Online, the 68 year old criticised society's emphasis on child-friendly establishments, citing 'badly behaved children in restaurants and cafés' in her top five hates alongside rude van drivers.
The journalist defended the implementation of child-free zones in cafés and restaurants by saying dogs, who aren't allowed in most of these establishments, are 'better behaved than the average British toddler'.
According to her account, going out to eat, one of life's pleasures, is being ruined by the 'cacophony generated by something small, cross and wearing a nappy'.
Shrugging off 'child-hater' accusations, Janet, who does not have children of her own, said her comments only make her someone who would like to avoid 'adventurous play' when she's trying to eat lunch.
She also directs her dig at mums, for not making their children behave in public places.
'Mums just smile beatifically and hope he will stop soon, while the rest of us grit our teeth and seethe', she wrote.
Children in planes was also brought up by the Loose Women commentator, with her defending the idea to sit all under-10s together, 'preferably right at the back of the plane'.
We asked if you agree with Janet on our Facebook page (opens in new tab), and were inundated with your views:
The majority of you agreed with Janet's view
Michelle Hayden: 'I seriously would not mind child free places to eat, and, yes, I do have children'
Helen Dukes Was Twigg: 'I'm a mom of 2 and I think she has a point. There is a time and a place. We take our children out but mainly to family restaurants. I don't think it's wrong for some people to want to enjoy their food in peace. It wouldn't bother me if some places said no children I would simply go elsewhere and go back to those restaurants when I didn't have my kids with me so I could enjoy the peace'
Most of you blame the parents for children's bad behaviour
Garry Coupe: 'I think they should ban the parents of unruly kids. I have taken my daughter to restaurants from being a few weeks old and she's always behaved well. Blame the parents NOT the child!'
Jacqui Hadden: 'I went for a meal with my hubby last week and an boy of about 8 or 9 was sat 3 tables down from us. He was playing on a game on his tablet which was on loudly. How is going to learn manners and respect for other diners when the parents don't tell him to turn the volume down, or wear headphones. I thought it was very rude and it spoilt our meal, my children are adults now but when they were young they were not allowed to run riot when we went out for a meal!' Mary Cassidy: 'Its the parents I blame for inflicting badly behaved children on other people. If I go for lunch or dinner it is a rare treat for me and I don't want it spoiled by screaming badly behaved children running amok!'
But some also thought she was out of line with some of her comments

Emma Thomas: 'I think she's talking out of her bum. There are already lots of places most parents do not take their children like pubs and very posh restaurants.' Divya Dutta: 'She is so rude.. I guess she has forgotten that once she was also kid'
Vanessa Barnes: 'I have 5 children and believe me there is a place for children to eat! Family based places are much more fun for them and this way they don't get bored. There are places you want to go and be yourself or as a couple. I go to those places with my husband when we have a sitter. However this woman could have been more polite in the way she puts things! This is the future generation you're talking about love, the ones that'll be changing your arse while you're dribbling your prunes!'
We also got some interesting suggestions!
David Holmes: 'When the waitress turns up with a child's menu they should place a noise meter on the table'
Amanda Reynolds: 'Also, there should be mobile free cafes and restaurants, cos they piss me off too.....'
Would you like to add to our debate? Simply comment in the box below to share your views
Trusted, informative, and empathetic – GoodTo is the ultimate online destination for mums. Established in 2007, our 15-year-strong archive of content includes more than 18,000 articles, 1,500 how-to videos, and 7,000 recipes.