Jennifer Garner reveals the very unusual way she realised she was pregnant
Did this ever happen to you?!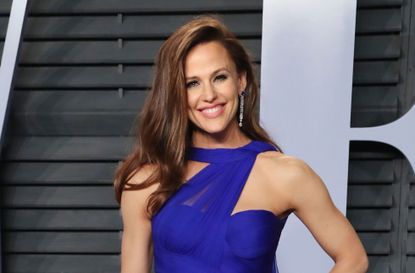 GoodTo newsletter
Sign up to the GoodTo Newsletter. You can unsubscribe at any time. For more information about how to do this, and how we hold your data, please see our privacy policy
Thank you for signing up to . You will receive a verification email shortly.
There was a problem. Please refresh the page and try again.
Jennifer Garner has opened up about the very unusual way she found out she was pregnant, even when her doctor denied it.
Even without any of the commons signs of pregnancy (opens in new tab), the mum-of-three said she woke up one day and instantly knew she was pregnant.
In a special episode of The Ellen DeGeneres Show's for Mother's Day, which is celebrated this Sunday 13th May in the US, she said: 'I woke up that morning, and I just knew and I peed on the stick and it was so faint,' she said of the pregnancy test positive lines.
Jennifer then explained that she went to see her doctor and had another test done in his office, which came back negative.
https://www.youtube.com/watch?v=fyhIDqPTS60
'He gave me one and said, "I don't know, you're not pregnant. It's negative." And I was like, "Yeah, I am. I'm telling you I am." So [my daughter Violet's] 12, and I don't use that doctor anymore, but I have her so I won!'
The mum also opened up about her three pregnancies and her cravings (opens in new tab), saying that some of them were 'gross'.
'I was nauseous for Violet, then with Sera, my middle daughter, I had to listen to Yo-Yo Ma at night. It got worse throughout the day. It wasn't like in the morning and then I was fine. As the day went on, it was worse. For some reason Yo-Yo Ma got me through.
Jennifer Garner whilst pregnant with her daughter Violet
'Then with the third kid, just forget it. It was like Happy Meals. It's just gross. It's just gross what you do', she told talk show host Ellen.
The Alias star also spoke about her pregnancy body, saying that her bump was not the only thing that grew while she was expecting her babies.
'One of the things for me being pregnant is first of all you can tell day two, and second of all I carried a baby in the back as much as I did in the front', she said.
'So I'd catch myself in the mirror and be like, "Ah! What is that? So big, oh my god, there's another thing growing back there!"'