Jesse James Decker sparks controversy with picture of herself drinking while breastfeeding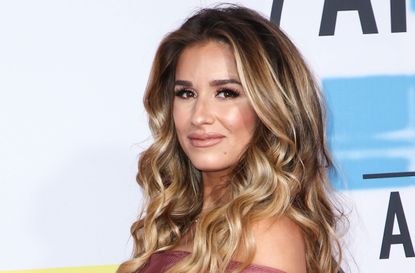 (Image credit: John Salangsang/BFA/REX/Shutterstock)
GoodTo newsletter
Sign up to the GoodTo Newsletter. You can unsubscribe at any time. For more information about how to do this, and how we hold your data, please see our privacy policy
Thank you for signing up to . You will receive a verification email shortly.
There was a problem. Please refresh the page and try again.
Singer Jesse James Decker has sparked controversy online after sharing a picture of herself with a drink while breastfeeding.
The mum, who welcomed her third baby with football star husband Eric Decker in April, posted a picture of herself breastfeeding (opens in new tab) Forrest Bradley while holding a drink, alongside the caption: 'Cheers bitches'.
While it's not confirmed if the drink in the snap is alcoholic or not, the picture quickly sparked debate among her fans, with many criticising for consuming alcohol while feeding her baby.
One wrote: 'Not offended by the breast I'm offended by the alcohol. The CDC is strongly against drinking anything alcohol when you're breastfeeding and even more so while you're feeding. Bad idea and the reason many children are so messed up these days. #badmom.'
Another asked: 'Why post a picture of you drinking wine and breastfeeding? So stupid to do this to your baby. Ever heard of pump and dump? Is this setting a good example for all the young nursing mums?'
However, despite criticism, Jessie seems to be doing exactly what midwives recommend breastfeeding mums do.
GoodtoKnow previously spoke to Marie Louise, The Modern Midwife, on her advice for breastfeeding mums who want to have a drink (opens in new tab), and it turns out that you should actually time your tipple for the end of a feed.
'As midwives we must always recommend you don't drink at all but the following is the advice for those that wish to. If a mum really wants to drink, I'd say the best time to drink is towards the end of a feed', she said.
The reason for this is because doing this will allow the most time between drinking alcohol and the next feed, as drinking while the baby is latched on will make alcohol peak in the blood, and then be metabolised and removed before being absorbed by the milk.
'If mum wants to go out and drink, at a wedding for example, the best advice is to feed the baby just before leaving, drink plenty of water and eat before drinking alcohol', Marie added.