Jessica Cunningham reveals the heartbreaking news that she's suffered a miscarriage
'Just like that, it was gone'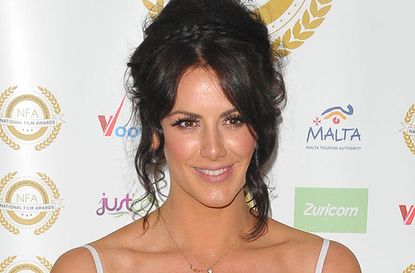 Jessica Cunningham has broken the news of her devastating miscarriage (opens in new tab), just months after her ex and father of her three children took his own life.
Jessica, who appeared on BBC reality show The Apprentice in 2016, revealed earlier this year that her former partner and dad of her young daughters Alistair Eccles had died by suicide.
Writing in an emotional letter on her blog, Mother of Maniacs, the 29-year-old explained how she'd thought that her pregnancy with now-boyfriend Alex Daw had been 'some form of light at the end of the tunnel' of her year, but that shortly after finding out she was expecting, she suffered another traumatic loss.
'We started to get excited, choosing names, guessing what we would be having,' Jessica detailed in the post, entitled 'And then there was nothing'.
'Having had three perfectly normal, healthy, but all completely different pregnancies prior to this one, I just assumed that everything would be okay.
'I did have a sharp consistent pain in what felt like my ovary, but again like you do, I googled it and it said it was completely normal, so I didn't worry and continued to feel happy and excited.'
Just days after taking a test which came out positive, Jessica began bleeding, and endured a miscarriage which lasted for three days.
'Just like that, it was gone. That was the most painful part of it, only three days earlier it read pregnant and now it was gone,' she said. 'I felt like my body was broken as well as my mind.'
'I felt humiliated telling my friends that I had miscarried as only a few days before I had told them I was pregnant. I wondered if it was something that I did, or if I could have prevented it.'
However, despite the complex emotions she was experiencing, Jessica added that she didn't allow herself to feel sad for long, 'because there were so many more reasons to smile.'
'I smiled for my children, my relationship, our health, the roof over our heads, my family, friends and just being here,' she concluded.
'Sh*t things happen in life, tragedy, death and things we will never know the answers too. But time is a healer and time needs its time.'
Since she shared the post on her social media pages, Jessica has been flooded with supportive comments thanking her for her honesty and bravery.
'So sorry to hear and read about this. I honestly think the timing wasn't right. It would've been too much change for you all in the past year. I hope it will work out next time,' said one follower.
'Awfully sorry for your loss,' another agreed. 'I really hope you're getting several years of bad news over with in 2017, and that the new year brings happiness for you all.'
Trusted, informative, and empathetic – GoodTo is the ultimate online destination for mums. Established in 2007, our 15-year-strong archive of content includes more than 18,000 articles, 1,500 how-to videos, and 7,000 recipes.